Week 18... Redux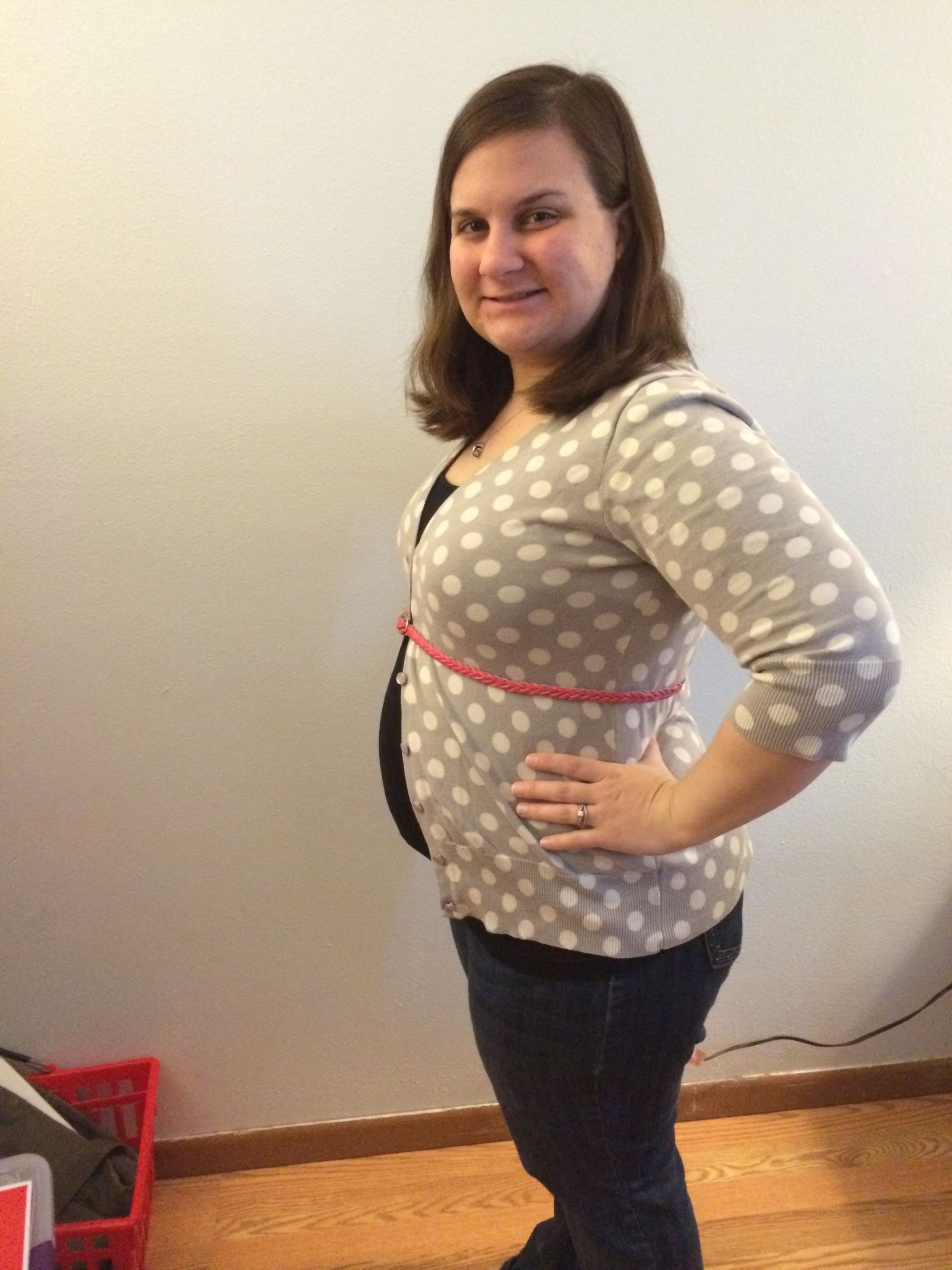 **What's New This Week?
I am actually doing this post a day early because I didn't want to wait until tomorrow.
**Well, we have made it back to 18 weeks. I feel like we have been here before. The more I think about it the better I feel about the later due date and repeating weeks. As I read more about Baby B's growth and development the more it makes sense. I wasn't feeling a whole lot of movement and a few other "symptoms" when I thought I was 20 weeks, but now I'm actually beginning to feel a little bit more.
Also, our loan has been approved and we now have selected our homeowners insurance!!!! I can't wait until we are in the new house and I can nest like a crazy lady!!!
Lately I have been **LOVING **Caramel & Mocha Frappuccinos from Starbucks. They are divine and Baby loves them. I like them a bunch too!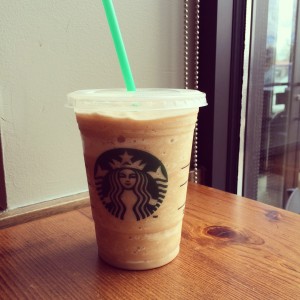 I forgot to post this after Easter (pregnancy brain…) Grandma Kathy got us an adorable and heavy duty diaper bag from Thirty-One. Filled with all kinds of goodies like jelly beans, and yummy chocolates oh and a pelican (representing a stork).
I think Ben might even like carrying this one around.
We LOVE it!

Since it is important to always have a back up… And I'm sure I will be that person who overpacks and will need 2 diaper bags when she goes out, I picked up this bad boy from COACH this past weekend. I mean how can you say no when they are having a 40% off sale? It ended up being cheaper than the bag I originally wanted to buy from Vera Bradley, so that is how I justified it.
In my mind it works and now I feel like I am prepared in the department of diaper bags.
Once we were done looking at diaper bags we spent a good amount of time at Carters, Oshkosh B'Gosh, and Motherhood Maternity outlet stores and scoped out all of the cute little girl clothes that I want to buy, but I will wait until I have more space to keep them. I also found a few pairs of shorts and capris that I will buy once the weather warms up a bit… if ever.
Also… Since we are moving at the beginning of July I have begun putting all of the things we get for Baby into a bin so it is all in one place for when we start the move and it helps me feel more organized. I would honestly like to begin packing now, but with the move still a couple of months away there is not much I can pack away yet. I can't even pack away my winter clothes!! This "spring" is cold and I still find myself looking for sweaters.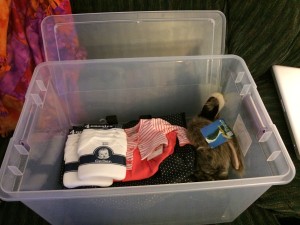 We also got this awesome card in the mail from our friend Sarah! I will be taking you up on the offer of babysitting as soon as I am ready!!!
Ben and I also went on a date on Saturday night. We went and saw the movie Divergent. I had just finished reading the trilogy so I really wanted to go and see it to see how it measured up to the book. Besides a few details that they changed or completely took out, the movie was really good. I can't wait for the second one to come out. Plus the actor they got to play the main guy was pretty good looking too, so that made the movie easier to watch.
How far along?  18 Weeks
**Total weight gain/loss: ** +6lbs
**How big is baby: **Baby is measuring in at 5.6 inches. Thats about the size of a Sweet Potato. Weighing in at 6.7 oz.
**Maternity clothes? ** I am pretty much living in sweat pants, leggings, or dresses/skirts. I wear jeans or my work pants with the help of a B Band, which is amazing, but I feel like it wont be helping me out for much longer.
**Sleep:  **Sleep has been pretty nice lately. I wake up about once or twice to take a drink of water because I am always thirsty or to pee because that is also my other new hobby.
Best moment this week:  Noticing how much my hair has grown. I feel like it has grown so much in the past week or so. And finally buying some things for Baby B.
Movement:  I am finally starting to feel some movement. 
Food cravings:  I love apples, Caramel and mocha frappuccinos, and popsicles.
Gender:  Girl, but "keeping our receipt" as the tech told us to.

Belly Button in or out? In, but it feels more shallow than what it was
What I miss: I miss climbing stairs without getting winded. Its all of that extra blood (what my dr. told me)
**What I am looking forward to: **Our next appointment with our OB in 2 weeks!
Milestones:  She is beginning to yawn, hiccup, suck, and swallow. She is also twisting, rolling, punching, and kicking. She is super busy in there!
One more bump photo!