Vivian - 5 Months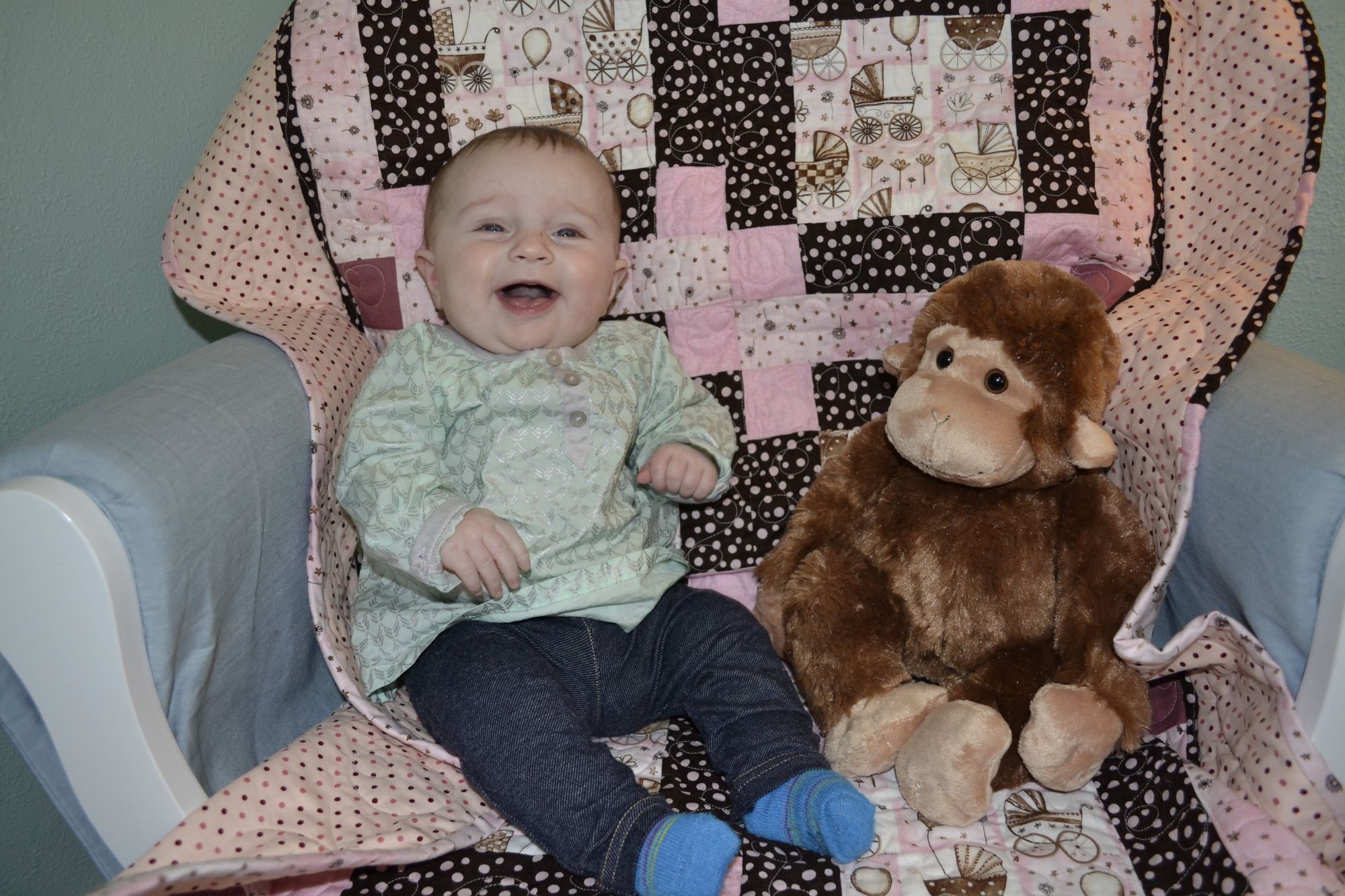 Another month in the books I guess. What I want to know is where did my cute, cuddly, quiet, sleepy baby go? These days she is still cute, but not so cuddly, very loud and obnoxious, and always awake. She is still refusing to roll over…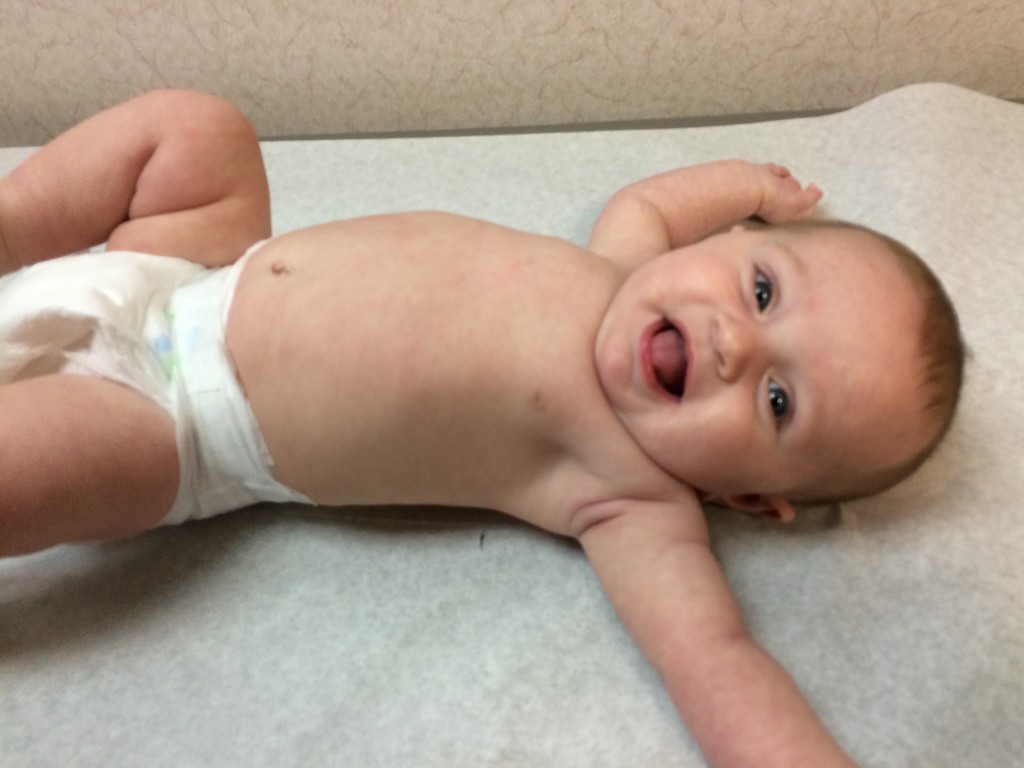 This past month we have gotten shots… had a vacation… and have started to go to church.  The shots were a sad day, vacation was fun, and she is doing really well at church.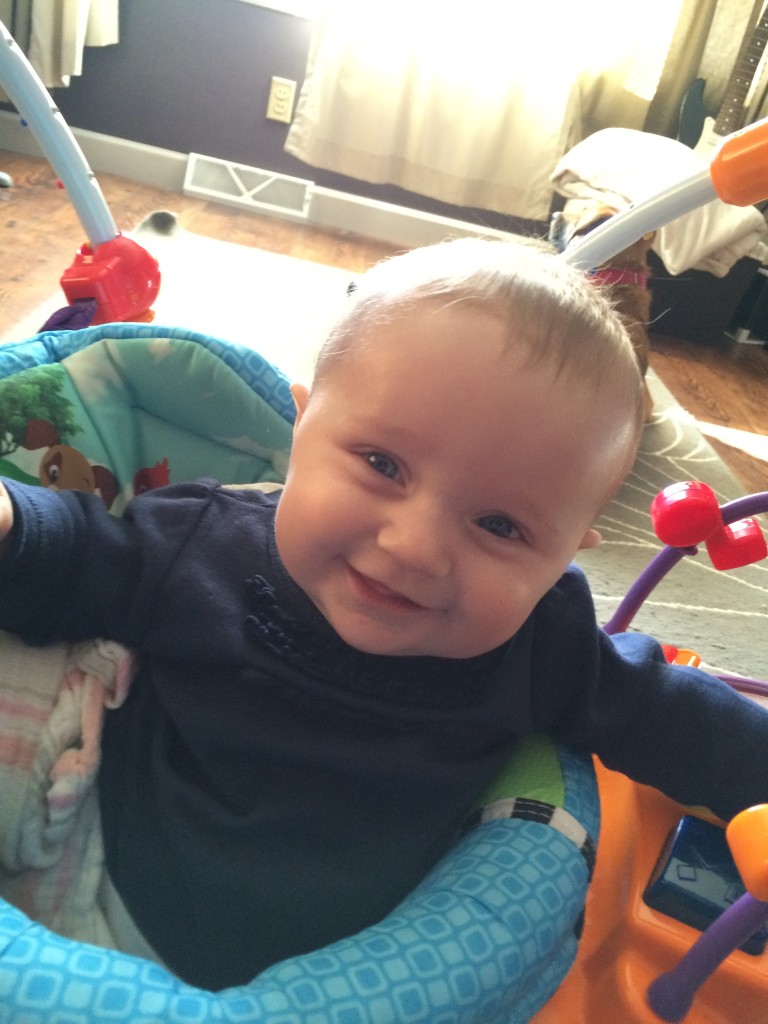 Over the past month or so Vivian has really discovered her voice. She has gone from random noises to actual babble. Most of the babble happens with her hands in her mouth. I can sit down and have an almost conversation with her! And when she is not babbling she is squealing…loudly. On some nights I have even been woken up by her little conversations. When that happens I just go back to sleep and let her go.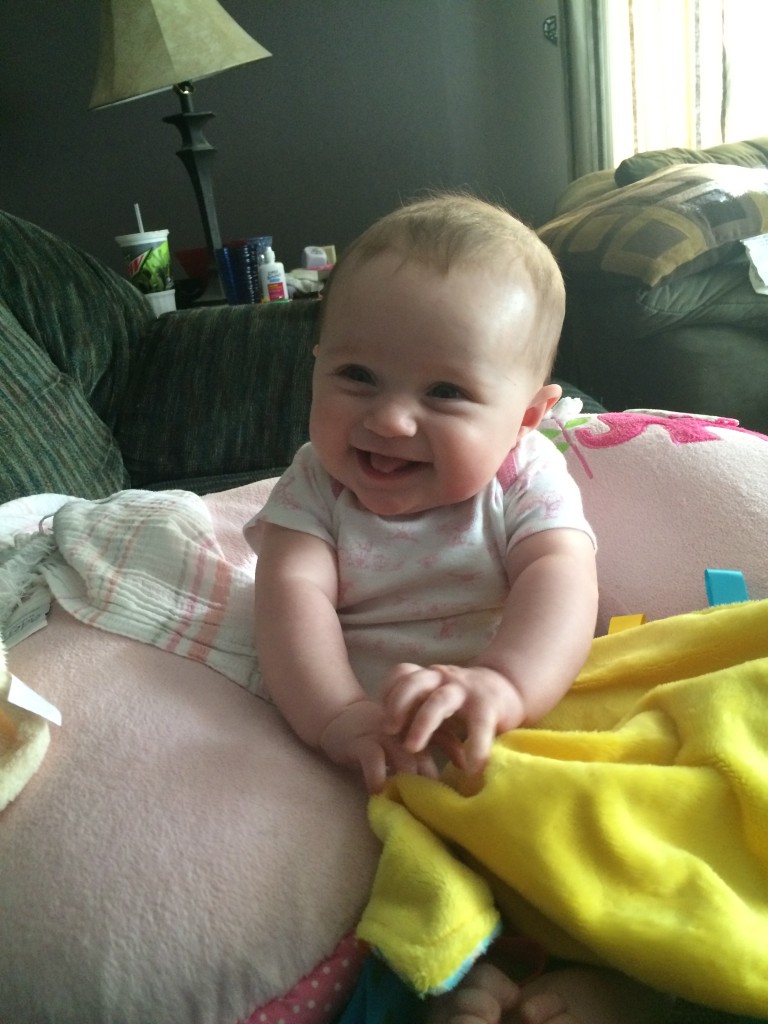 Her other new skill is grabbing things and bringing them to her mouth! She will look at something, concentrate really hard, slowly grab it and then quickly bring it up to her mouth. Super cute!!! She is showing interest in food, but isn't bringing up to her mouth yet. Just looking at it for now.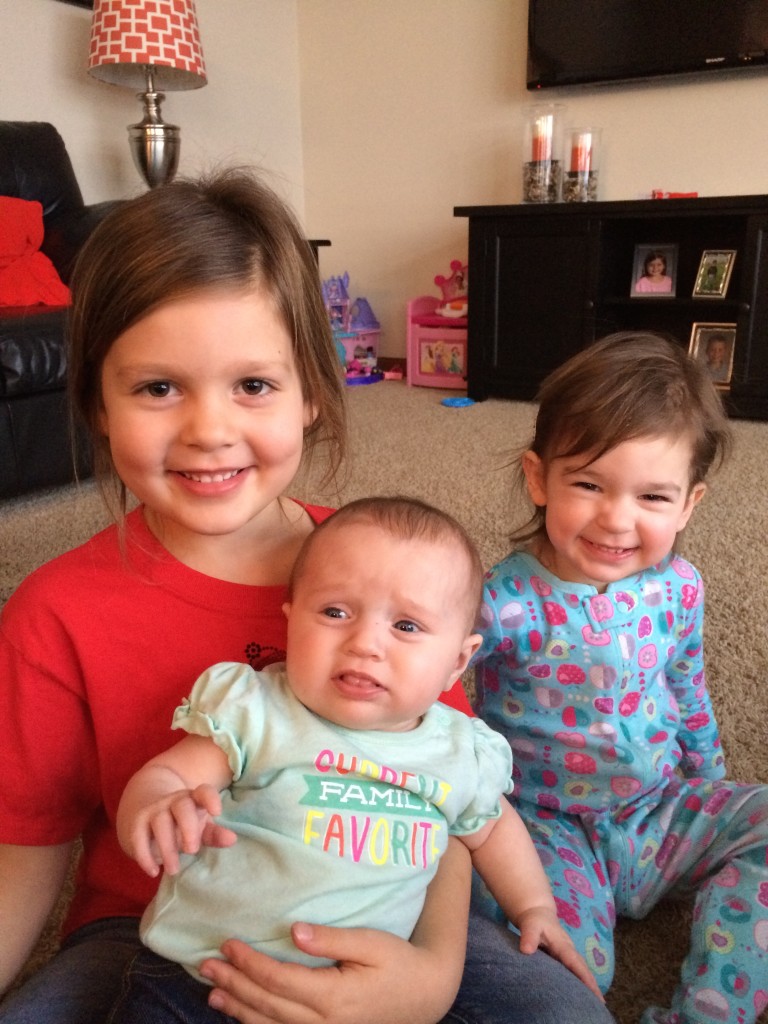 Her day time routine is pretty solid. I will wake her up around 6:15AM (sometimes she is already awake!) we go down stairs and have a nursing sesh and when that is done she gets a fresh diaper and I get her dressed. After that I pump and we sit and "talk" for a bit. And then she either goes into the jumparoo or I put her in her bouncy chair with some toys and I will put nickjr on so I can eat breakfast and pack my lunch. She gets dropped off at daycare at 7:45AM. From there she eats around the same time every day, and she gets to do fun activities! She might take an hour nap for them. Maybe… I pick her up at noon and by then she is ready for a good nap. So she takes a good 1.5 – 2 hour nap. She then eats around 2, plays, cat nap. And this continues until about 8PM when we start getting ready for bed. I think it is time to establish a more strict bedtime routine. We have started reading to her before bed, but I think there needs to be more. Any tips on bed time routines would be greatly appreciated.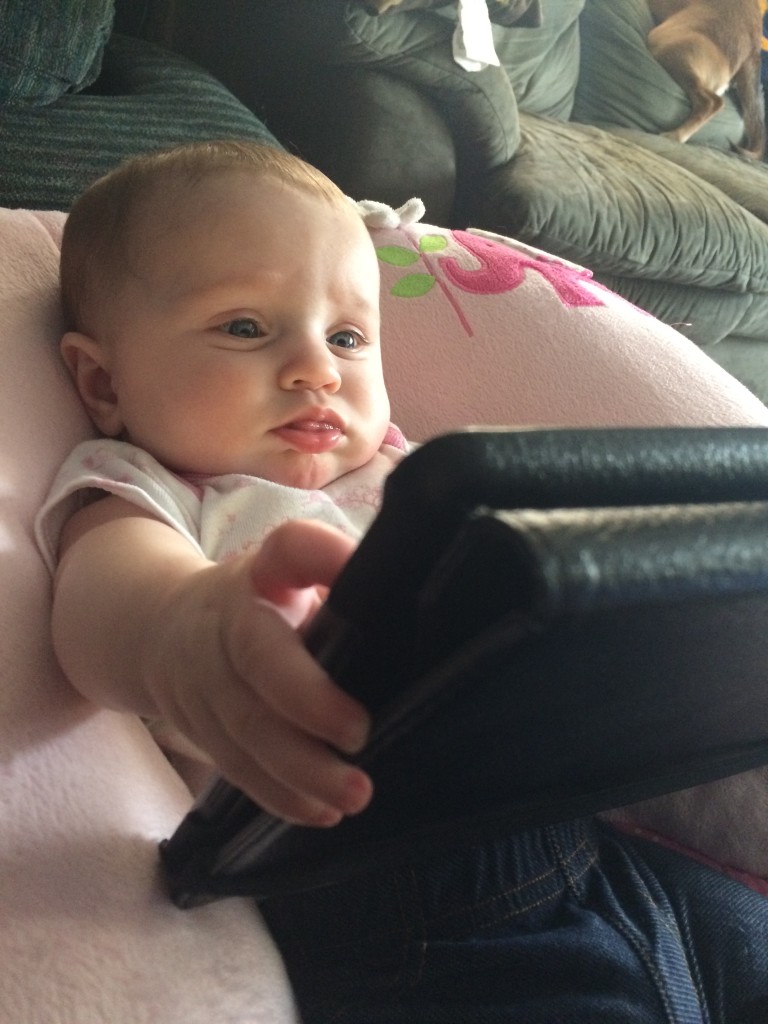 She is still getting up once a night to nurse. I'm going to have to do some research on how to wean her at night. This momma needs a good night's sleep.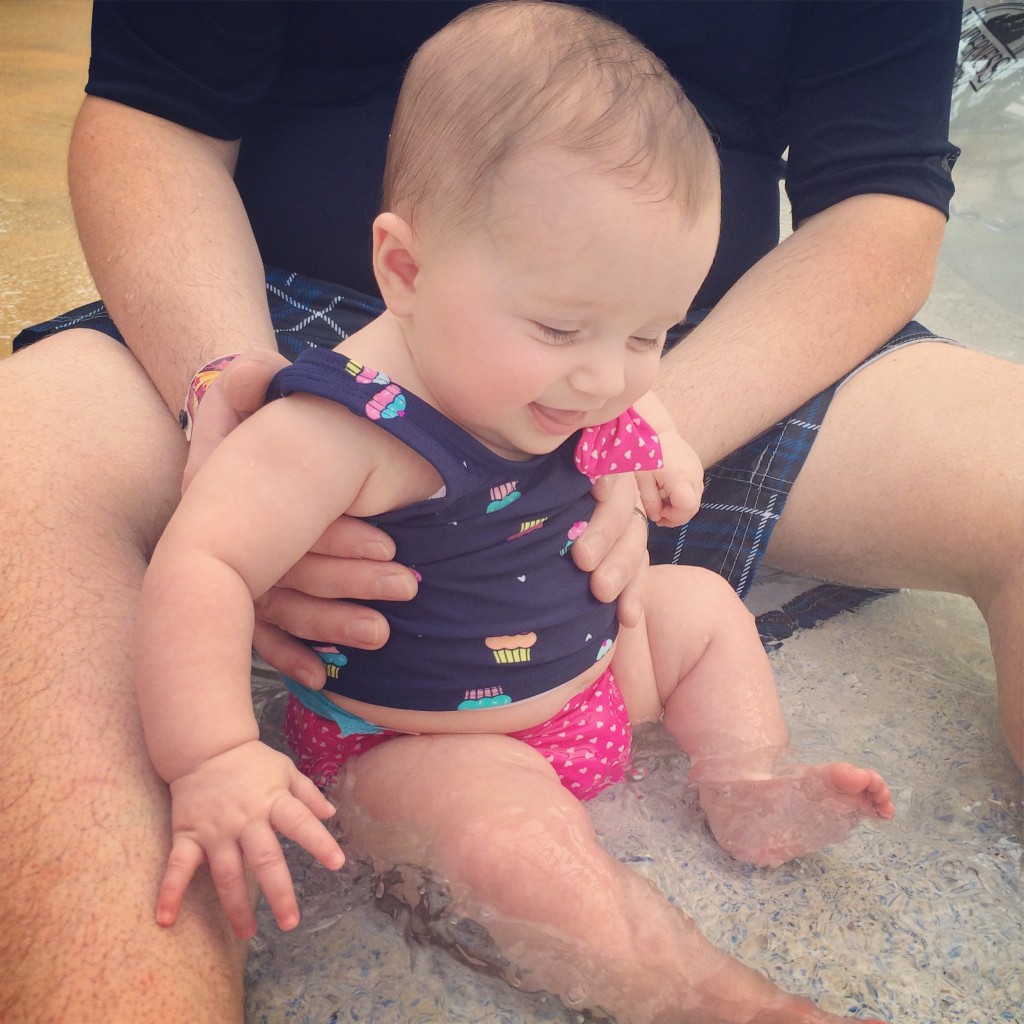 This past month we took a family vacation to The Wilderness at Wisconsin Dells. We went with my parents and brother, and my aunt and her family. The first night we were there we just spent catching up with the family and getting settled in our room. Everyone wanted to play with The Queen V so it was a nice relaxing evening. Then Saturday morning we hit the pool. Oh. My. Goodness. The amount of planning and packing that is involved in getting a baby ready to go to the pool for a few hours is exhausting. After packing up we headed to the pool. We got lost a few times… had to carry the stroller up the stairs several times , we finally made it to the wave pool and Vivian was fast asleep.  -_- Thank goodness for my mom. She watched Vivi while we all went down a few water slides. Once we got back Vivian had just woken up so we brought her to the "big bath tub." She was very hesitant at first, especially when the waves started coming. But after a while she realized that it was just like bath time, but you get to wear really cute swim suits and you can't pee in the pool. I like to think that she had fun and would like to go again when she is older :)!
While we were at The Dells we decided that in April we will be enrolling V in some swimming lessons thru the YMCA!!! Exciting­!!!
Vivian also celebrated her first Valentines day. She got mail from Grammy and Grampy Greenwood which she was excited to eat. We went up to Green Bay and went to Costco and then had lunch at Olive Garden and then we went home and just relaxed for the rest of the day.