Vivian - 2 Months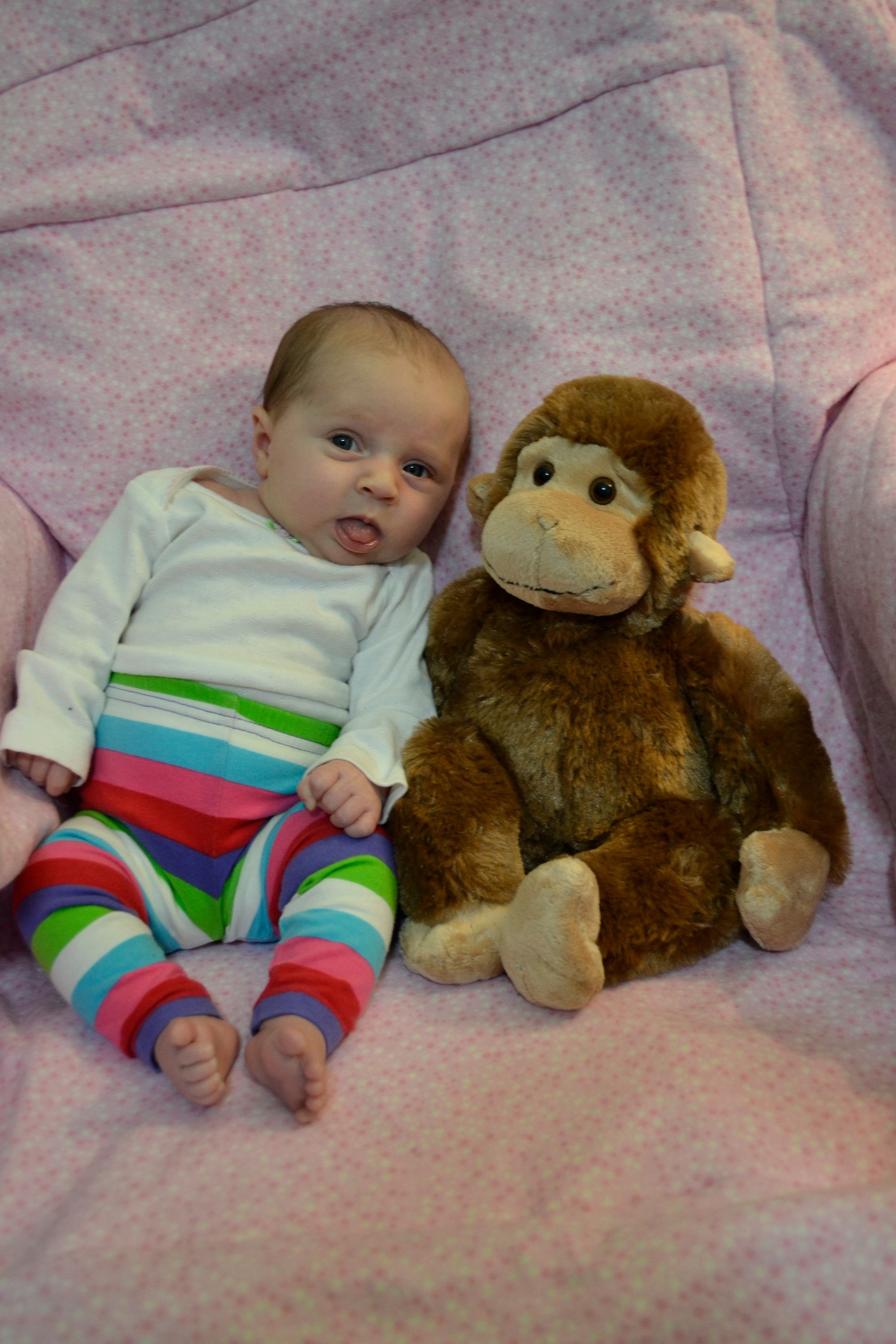 Where have these past 2 months (+1 day) gone? It seems like yesterday I was 35 weeks pregnant and ready to be done. Now I have a 2 month old and she is only getting bigger and older. Sometimes I still catch myself just staring at her in awe that she is here and that she is ours.
This past month has been a busy one. We took our first trip to visit Uncle Jason in Wausau for his birthday. Vivian loves her a long car ride. She hardly fusses, and ends up sleeping the whole time. We went for a walk at Rib Mountain to see what was left of the fall colors and just bummed around town and ended the weekend with the Packers game.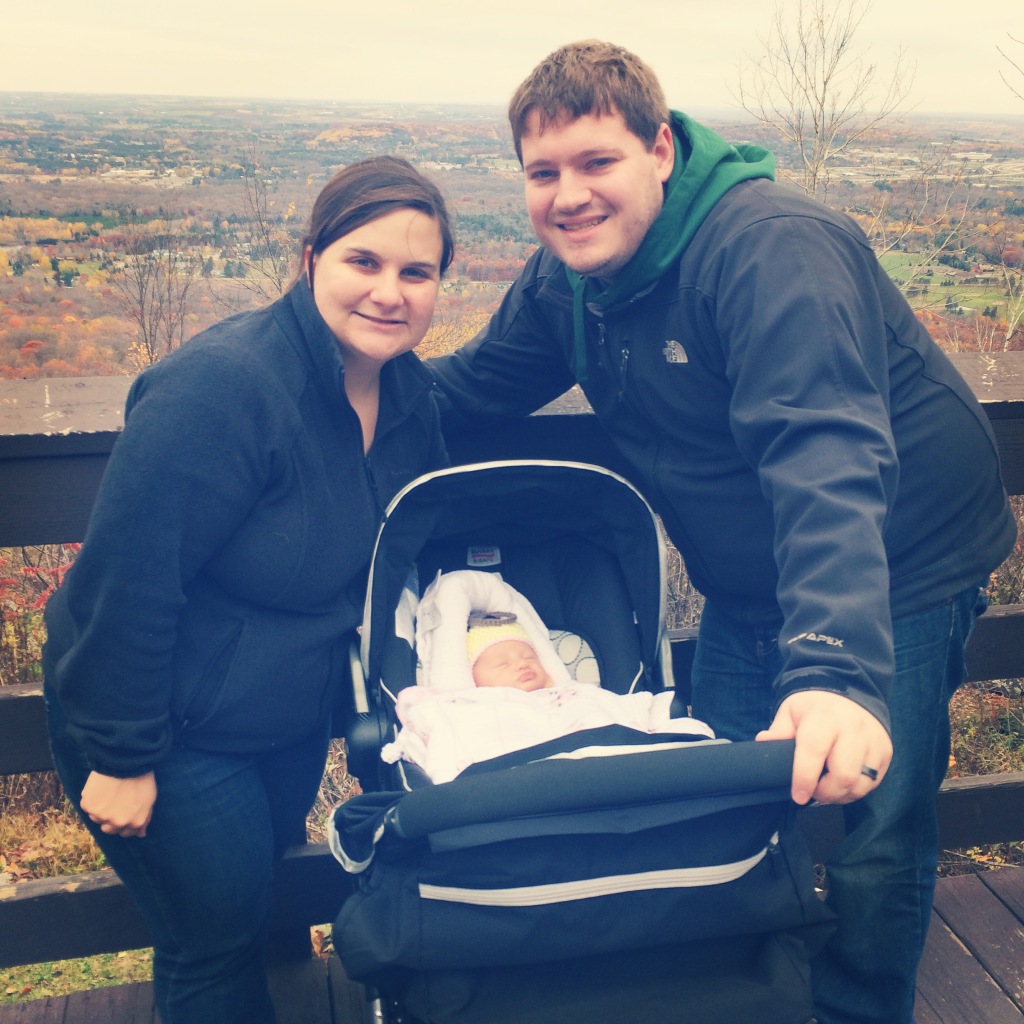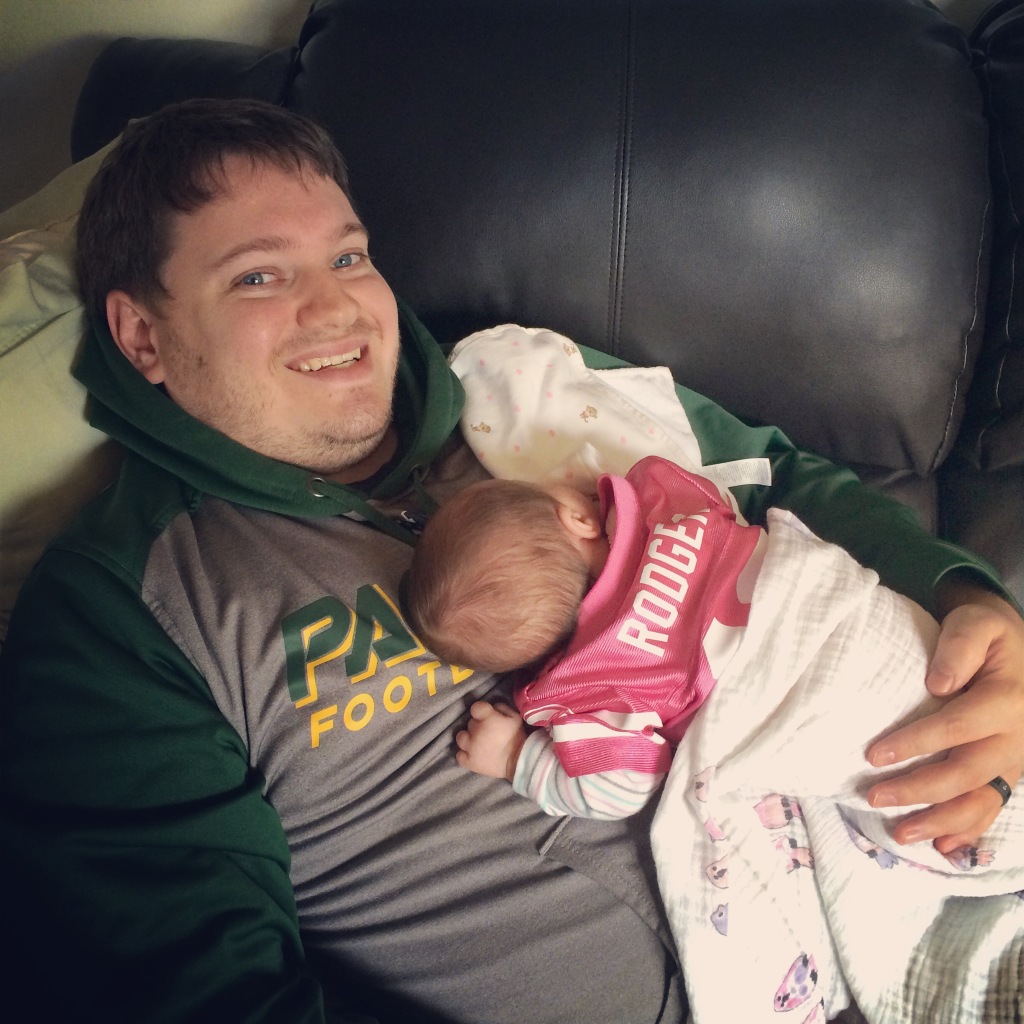 2 weeks after our visit to Wausau Vivi had her 6 week check-up. She weight 9 lbs. 4 oz. and was 21 inches long. Her development is right on schedule. She is tracking well and is beginning to recognize faces!!! Then she got her first round of shots. When they first poked her and she didn't cry I was amazed at that… I thought too soon. Right after I thought that she would be one of those babies that doesn't cry, she let out the most horrific scream. I have never felt so helpless and mean. How could I be okay with causing this little girl so much pain? Thank goodness the nurse was super quick and just like that it was over and I began nursing her to calm her down (thank you nurse and the internet for that tip!). My Aunt Cheryl flew in from Cincinnati, OH for a visit and to visit with Vivi on that same day. So after V finished nursing we packed up and headed to Neenah to visit with my Mom, Aunts, and Grandma. And thank God we did. Vivian was so cranky from the shots the whole day it was nice to be able to take turns trying to comfort her.
We also celebrated Vivian's first Halloween. She went as Minnie Mouse. Although we didn't go Trick or Treating we did hand out some candy. Everyone that saw her loved her costume and thought she was super cute.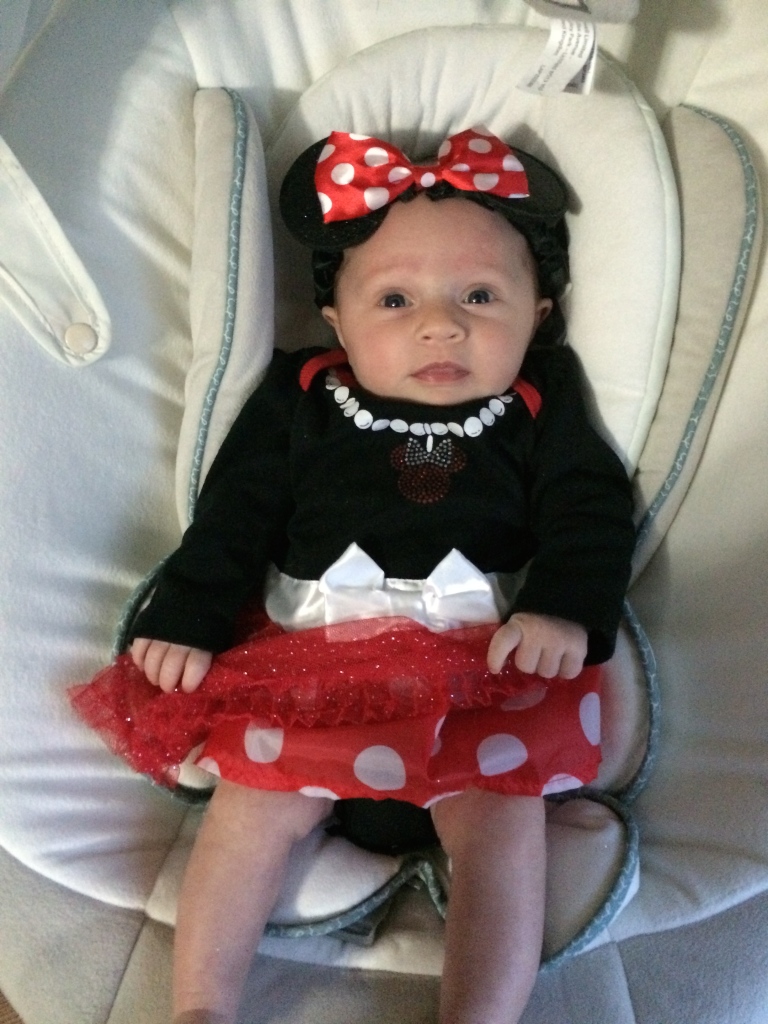 She also came along Voting with us on the 4th!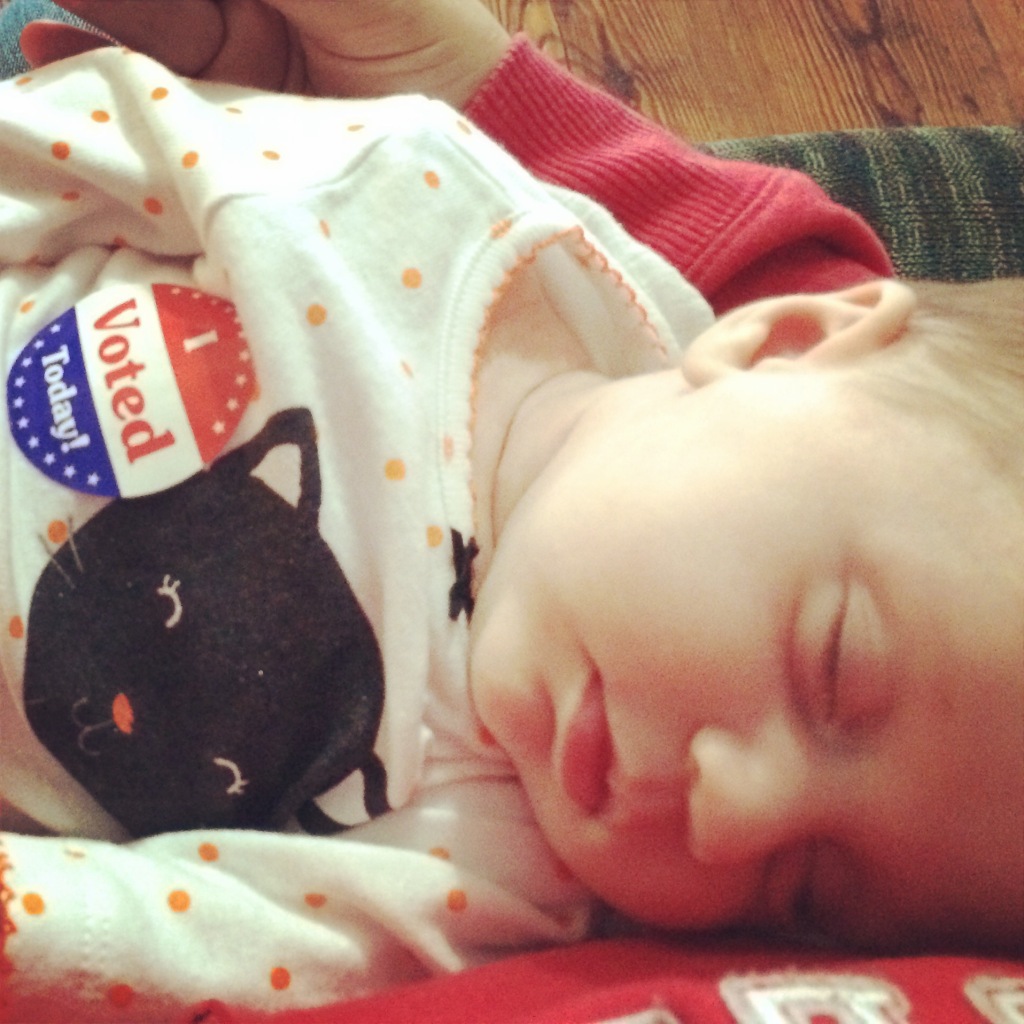 We have gone on a lot of Target outings, and shopping trips with Grandma Greenwood. We also went to a Chili Cook-off.
Vivian also got to spend a couple of hours with Grandma Kathy while Ben and I went out for dinner and a few drinks.
The amount Vivian is changing is blowing my mind. She is smiling almost all of the time. She is beginning to coo at us. And every now and then she tries to laugh and the sound that comes out is kind of scary, but adorable all at the same time. And sometimes when she sneezes, afterwords she makes a cute sound of frustration… like she is mad that she just sneezed.
The most recent development is that Vivian started daycare on Monday. Remember in one of my previous blogs where I went on about choosing daycare…? Well, after only 3 days of her going to Arts for Kids I could not be more please with our choice. Everyone there is amazing and are really helpful with this transition. I only cried for a few minutes her first day after I dropped her off. When I pick her up her teachers fill me in on what she did that day. She gets to swing, bounce, and play with toys! Little Girl has so much fun, and it makes me happy that she gets to have so much fun and work on her development while I'm at work.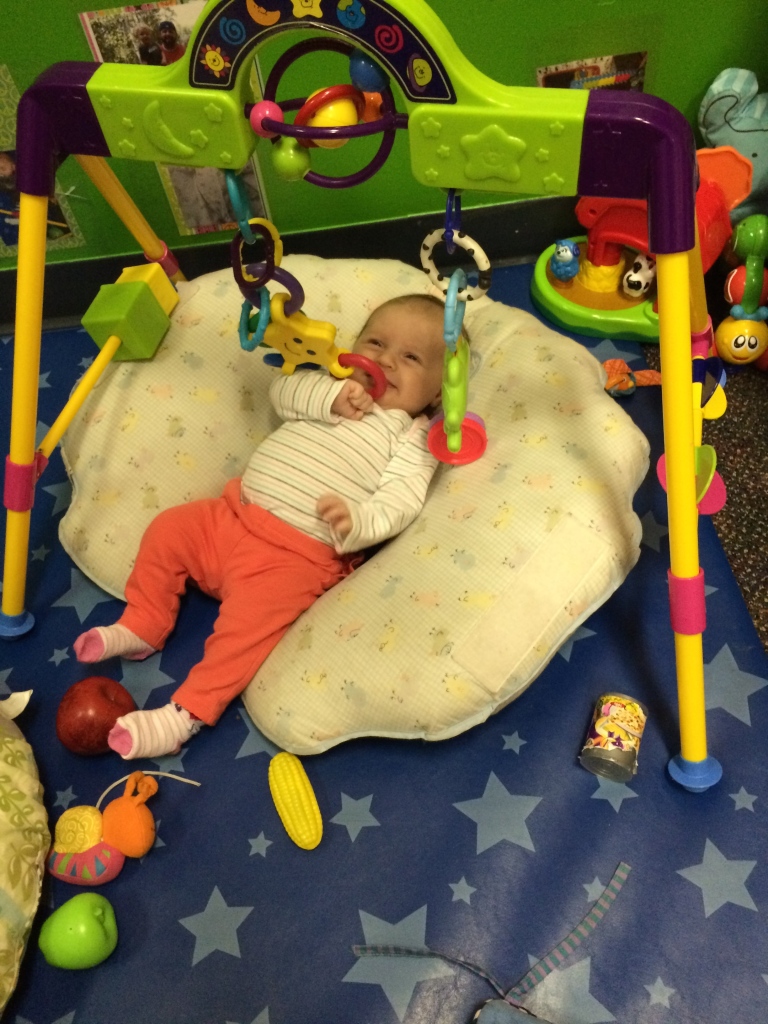 Nicknames: Vivi, V, Little Girl
Mom Update: All in all I am doing great. I am finally getting the hang of this "being a mom" thing.
I am officially back in my pre-pregnancy clothes.
My hardest day was dropping V off at daycare for the first time.
I am officially back to work, part-time, 20-25 hours a week!
**Vivian's Favorite Things:
The Kitchen Lights – well, lights in general
Growling/Screaming at my boobs – especially when she is super hungry
Bath Time – she loves to splash and kick in the water
Bouncing – especially around lights
Swinging – on the second setting of the swing is the best
Ben's Beard – she always seems so shocked when she touches it
Laying on Mommy's Chest – and sleeping there too
Burping & Farting – every chance she gets
**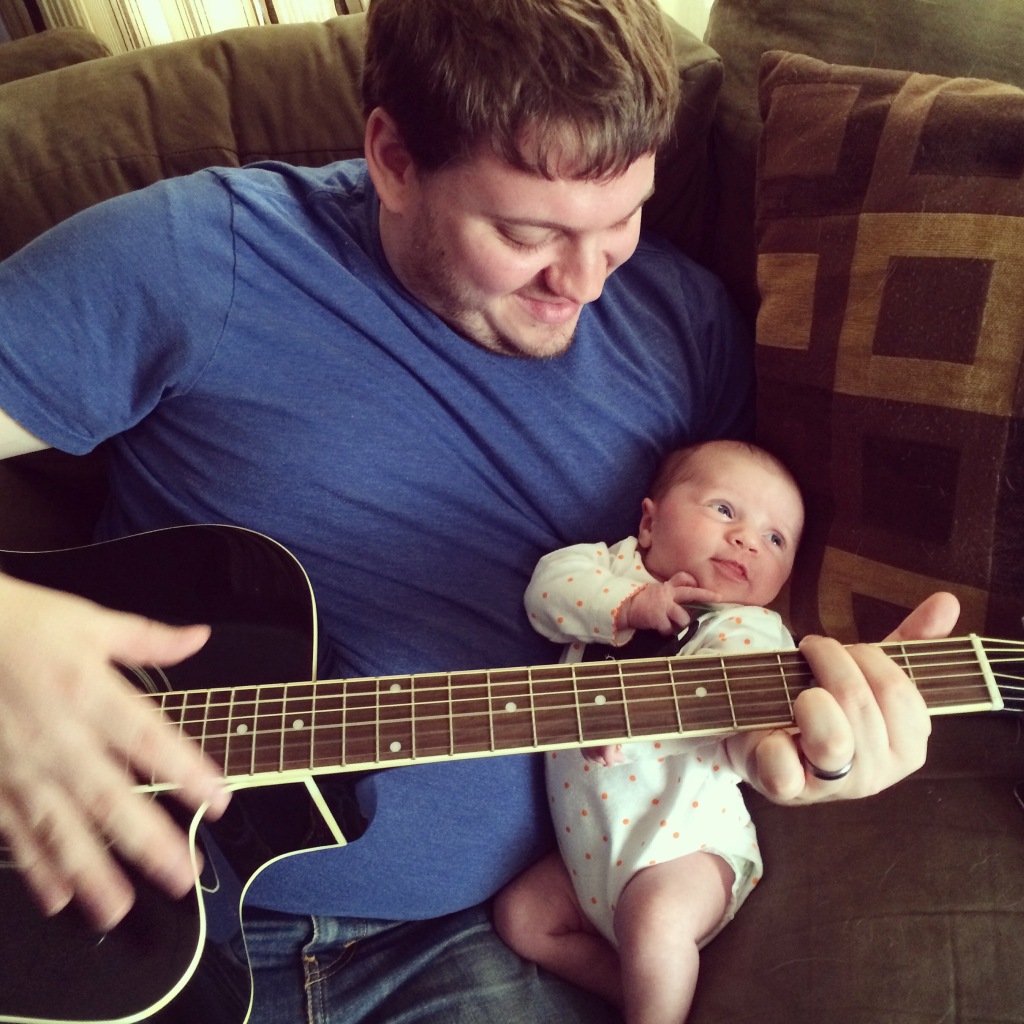 Enjoying The Musical Stylings of Daddy