Vivian - 11 Months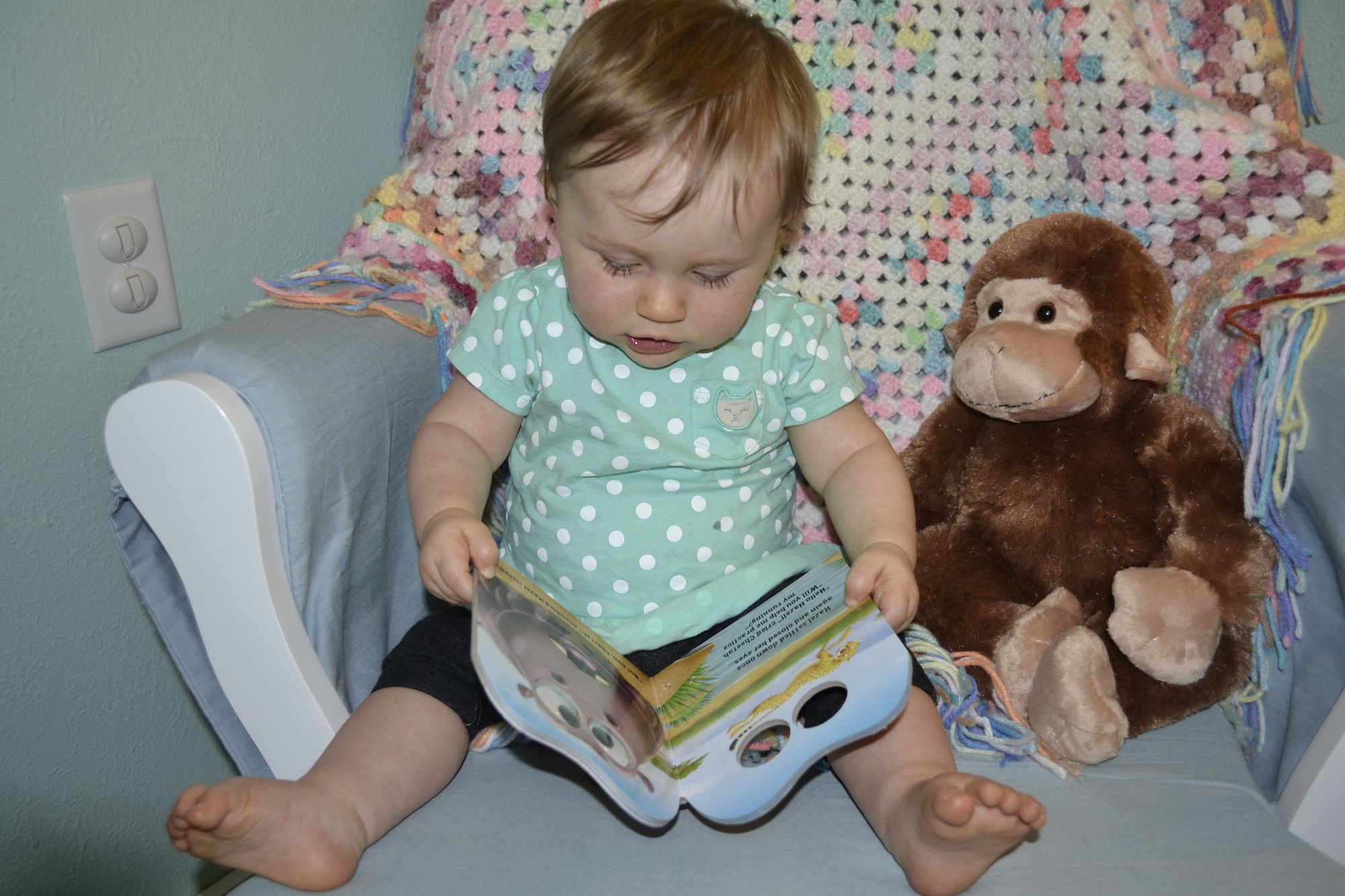 We are just 1 month away from Vivian's first birthday. And so much has changed over the course of this last year. Keeping up with Vivian, who is now, moving about with ease — and getting into everything! If she sees and can reach it; its hers. Taking her photo is becoming harder and harder. She has so much interest in the camera and making the chair rock. After her next one we will have to move it.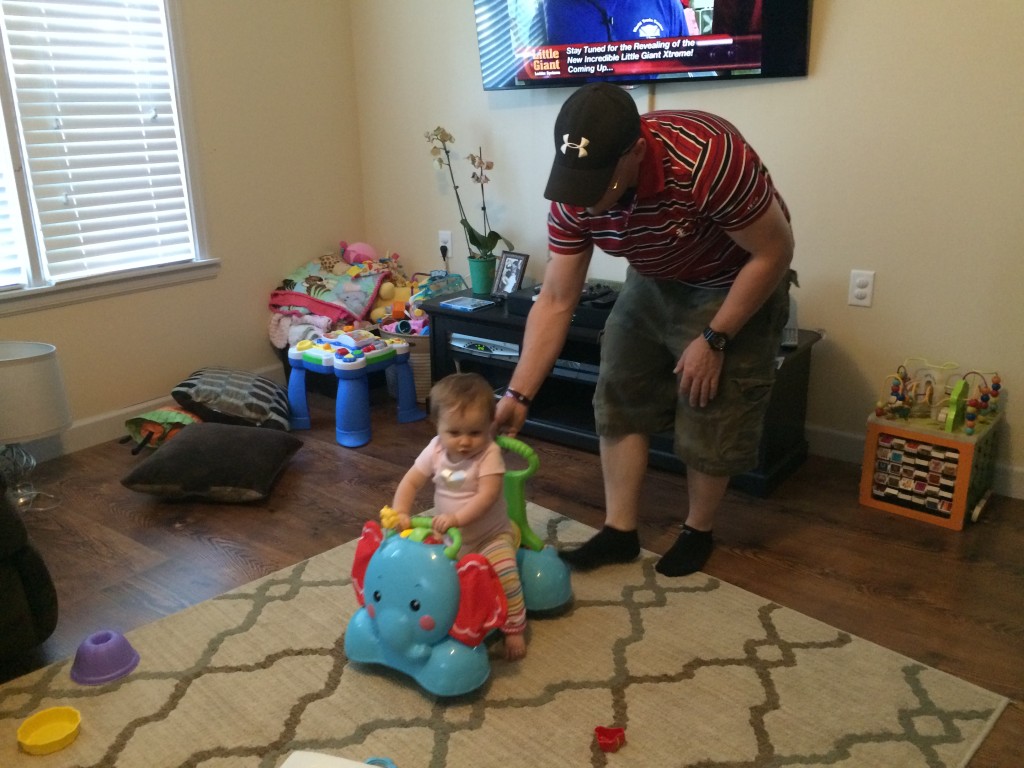 MILESTONES
Vivian is cruising around, these days she is walking (while holding onto my hands for stability) and she can go from toy to toy if she can reach it. She even tries to take a step without me once and a while, but that usually ends in tears. She has also learned how to pull herself up from a sitting position to a standing one! She is also able to open up drawers to take the stuff out!
Still only 2 teeth.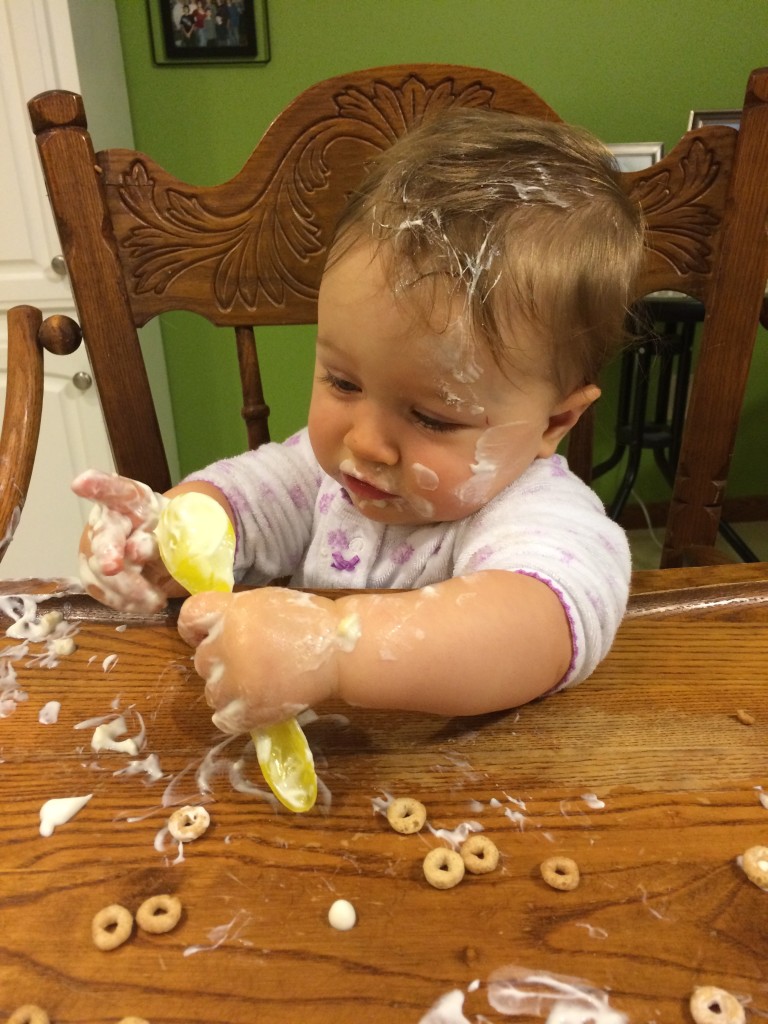 **FOOD
**For the past few weeks Vivian has slowly refused to eat purees during certain meals. One day she wouldn't want her lunch, but would eat her breakfast and dinner. During that time we would add in the foods we were eating during that meal. Well, as of this morning she will be getting normal food at daycare for her breakfast and lunch. She will also be getting normal food at home for dinner. Exciting things.
Foods Vivian Loves:
French Fries
Strawberries
Celery
Carrots
Cheerios
Bananas
Chicken Nuggets
Pork Chops
Pierogis
Spaghetti
Any Type of Noodle
Pancakes
Bacon
Zucchini
Pickles
Honeydew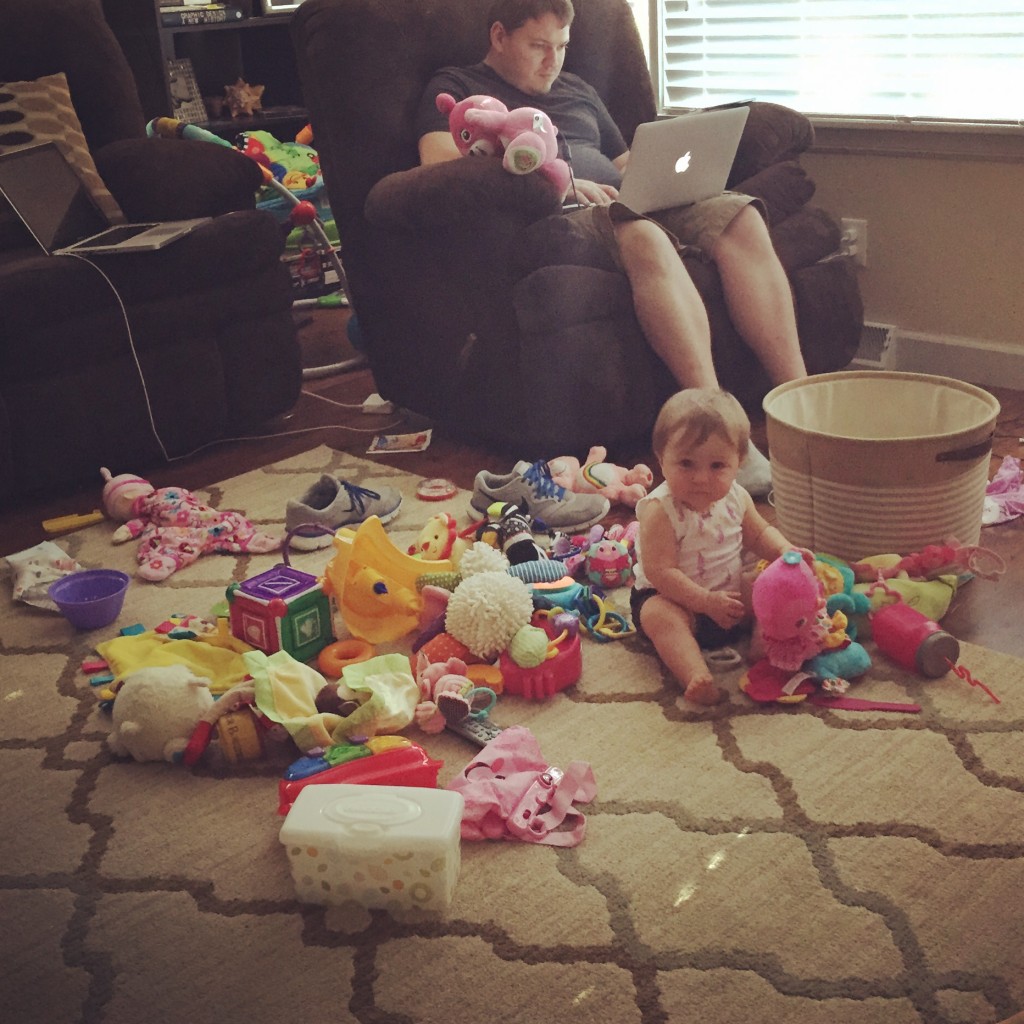 **PLAYING & LEARNING
**If Vivian is playing with her phone (dead/old phone of Ben's), and if you say "Vivian? Hello, Vivian are you there?" she will 98% of the time bring the phone up to her ear.
She loves to play patty cake and clap her hands to the beat of music.
She can find her "piggies" (toes) 50% of the time if you ask her where they are.
She has formed a special bond with the pink rainbow care bear. The bear comes with us everywhere.
Her favorite TV show is 'Peppa Pig'.
She loves to look through books (and chew on them too)
**SLEEP
**I'm so excited that she is finally sleeping through the night!!! Although, since she refuses to nap at daycare she will nap from 12:30pm (when we get home) to about 3:00PM and then she will be up until about 9PM and she will sleep until about 6:30AM. It's not bad but it would be a whole lot easier if she went to bed at like 8. Oh well.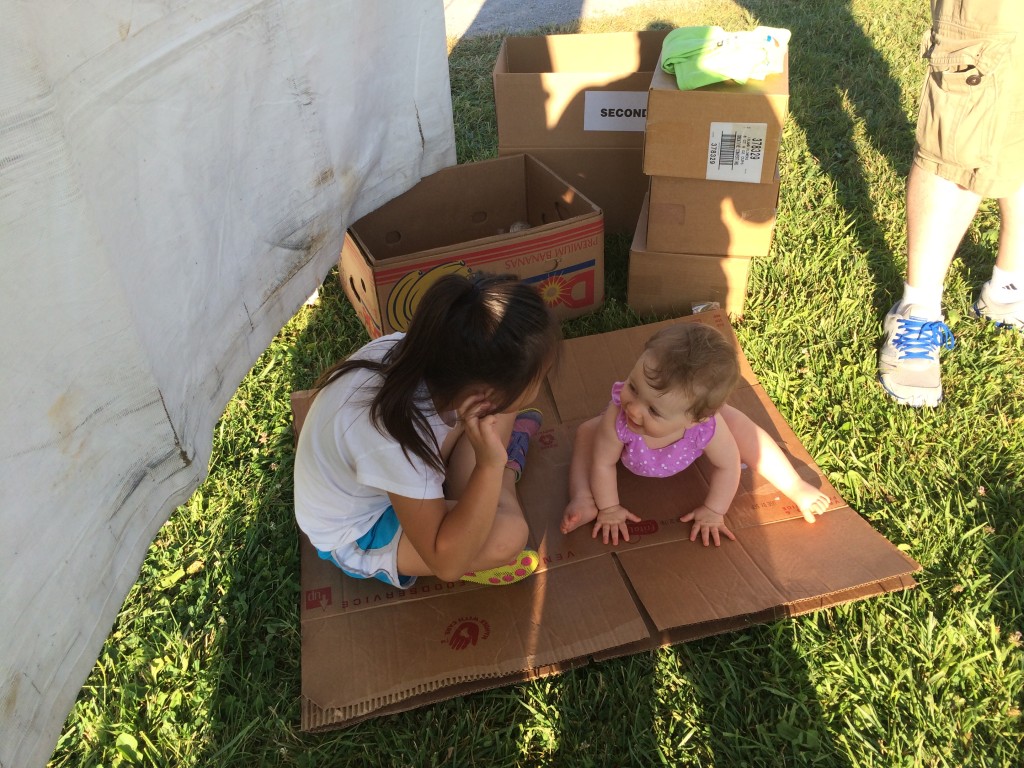 **THIS PAST MONTH IN A NUTSHELL
**We have spent a good chunk of time at the doctor's office this month. First it was pink eye. Then she got a nasty cold and an ear infection and from that she got thrush. Since she was on amoxicillin for her ear infection she developed a rash from it. The rash was NOT an allerergic reaction to the medicine, about 10% of babies develop a rash, and she can still get the amoxicillin. The doctor said that 93% of children that get the rash initially won't get it again. Explaining that to daycare was rough. I know they are doing their jobs and they do a wonderful job, but when I tell them that I already spoke to nurse direct and her pediatrician (who both said the same thing) and they told me she was fine and it wasn't an allergic reaction and to let it run its course, I will do what they say. But no I get a call asking to pick up Vivian and take her to the doctor because she is having an allergic reaction. So to the doctor we went and they told me what they have been telling me all along, not an allergic reaction. Dear Daycare, please pay my co-pay now.
We also went to EAA with Vivian to see the night show and fireworks! She loved the airplanes and was in awe the whole time they were flying by. She fell asleep before the fireworks started though so ben and went and watched them as we brought Vivian to the car.
We took Vivian to her first Waterfront Festival in Menominee. We listened to the band and she danced the whole time. She loves the musical stylings of The Beach Boys.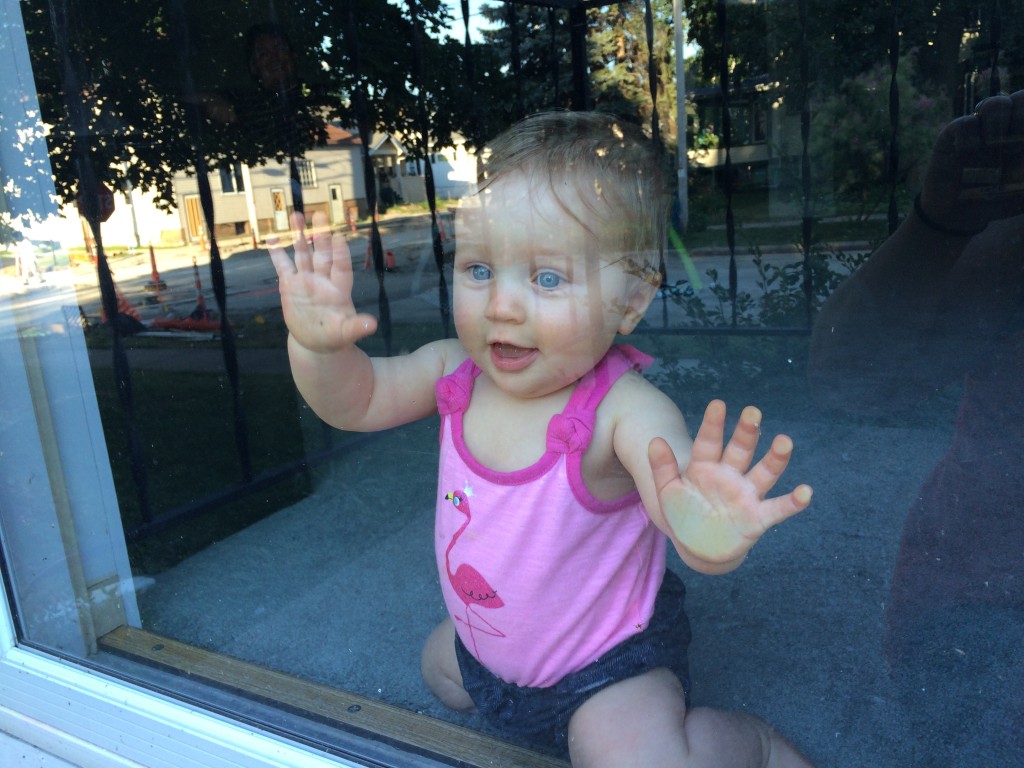 THE WONDER WEEKS
Vivian is still in the leap of Sequences. She will learn to recognize and manage the flow of events and relationships over time. Eating cereal with a spoon, for example, means grab the spoon, put the spoon into the bowl, scoop some cereal onto the spoon, bring the spoon to your head, and put it in your mouth not your eyes. She will link actions together to reach a goal. At this stage your baby likes to feel needed and will want to help. Some skills she might gain during this leap are:
Answer simple questions. Example: How big are you? And she will raise her arms
Says "hum" if she wants another bite
Points at things, people, or animals if you ask her to
Put together a simple puzzle of 3 pieces
Understand that she has to talk into the mouthpiece of a phone
Stacks rings onto the ring pyramid
Points where to go
Repeats a game
Tries to persuade me to help her with things she really could have done without my help
Imitates two or more gestures that I make, one after the other
Tries to put her sock on by herself but doesn't succeed