Vivian - 1 Year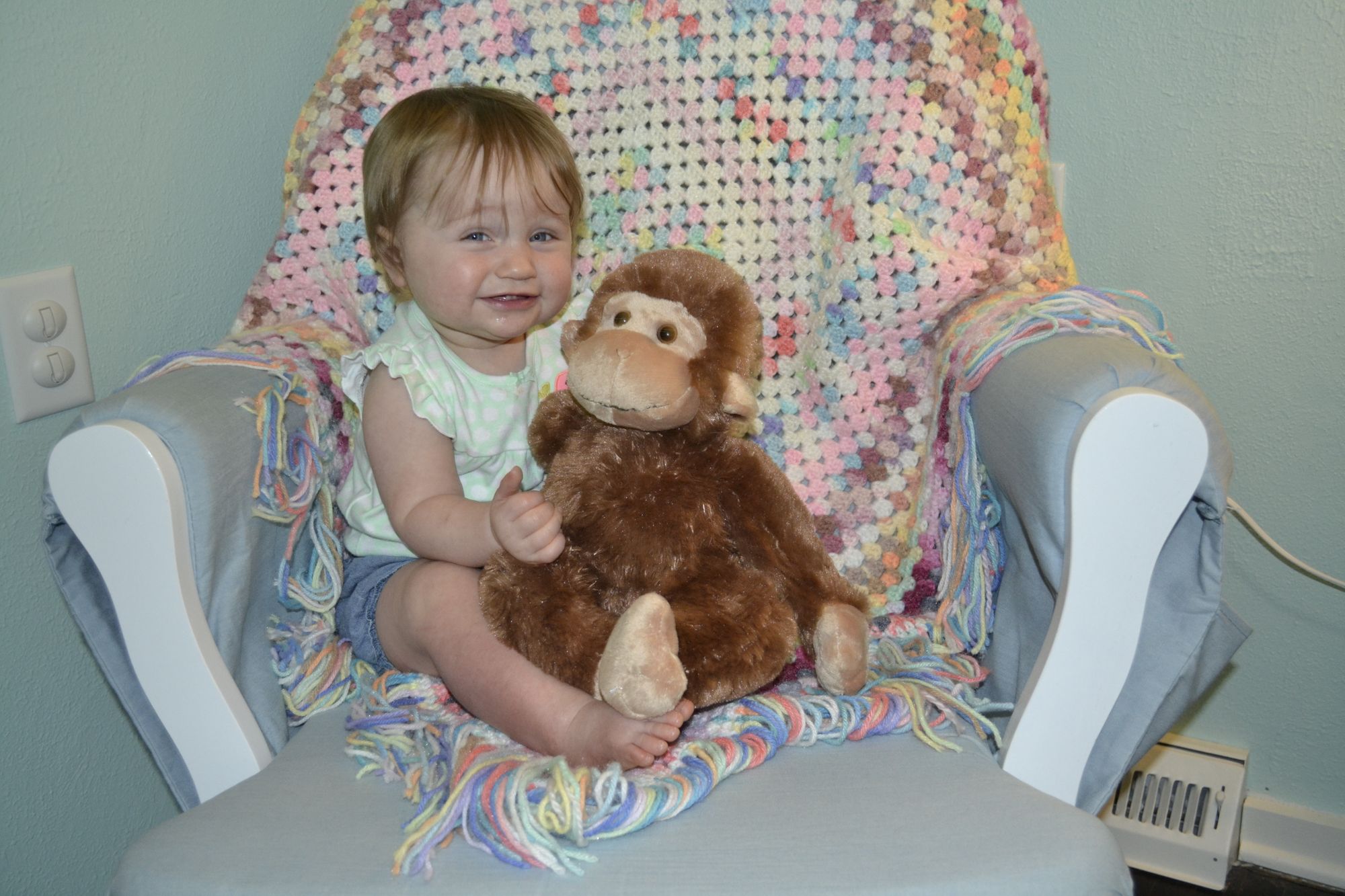 A lot can change in a year. You get a new job, settle into a house you bought, oh yeah and your baby girl turns 1!!!! (I don't want this post to be too sappy.)
*"Happy birthday to baby! It's perfectly normal for parents to feel a mixture of pride at seeing how far you've come and sadness at how quickly your little one has gone from baby to toddler. Enjoy your day together — this is the beginning of an exciting new stage in both of your lives." *
I got that gem from the Bump and it couldn't express my feelings more perfectly! Ben and I are so excited to have reached this milestone! Vivian is thriving and we couldn't be more proud of her, and of ourselves for making it this far (and we haven't gone insane!!!). But on the other hand last night before we put her to bed we both took a bit of time with her to cherish those last moments before she turned one. I know the cuddles won't change, and she will still slap me in the face right before she falls asleep in my arms, and require me to play with her hair a bit, but she is ONE now.  It just felt like it was something we had to do. Vivian enjoyed it, she got double the snuggles before bed!
MILESTONES**
**These days Vivian has no problem standing up. There have been a few occasions she has stood on her own! She still isn't walking on her own yet, and that is okay. I'm not ready for that.
She is eating by herself. She no longer needs any assistance from us when it comes to food. If we offer to help her she will scream at us, push the spoon/fork away and do it herself.
She knows how a phone works, and what to do with a hairbrush and a toothbrush.
She will also turn the pages in her books.
Still only 2 teeth, but I can feel her top two coming in
** 
**
SLEEP**
**We are officially down to 1 nap during the day. She will usually sleep from 12:15 to 3 or 3:30pm. And for the most part she sleeps through the night! She mostly sleeps on her stomach with her butt in the air! It's so cute. I can try to get a picture, but I can't guarantee anything!
** 
**
EATING/FOOD**
**NO MORE PUREES!!! Vivi eats what we eat for the most part. If Ben and I are eating Chili for dinner we will let her try a bit and if she isn't into it I will dig out some fruit, chicken nuggets, and green beans or some other veggie for her. For the most part Vivian is a carb girl. She loves noodles and bread, which is why I try to give her the fruits/veggies and protein first and then the carbs. But it doesn't always work like that.
She has moved up to the Gerber "Graduates" formula. She still gets 3-4 bottles a day. 2 of them come in the form of a sippy cup, one at daycare and one for dinner. I am working on slowly cutting out 2 bottles from her day. So she will be getting 1 at breakfast, one and lunch, and either at dinner or right before bed.
We will now be starting the transition to cow's milk. This is super exciting to me. I will be saving approximately $90 a month by not buying formula!!!
** 
**
TALKING**
**Vivian has a growing vocabulary. She knows a handful of words and the rest is just babble. Sometimes I can make out random real words in the babble, but then never hear them again. The little stories she tells a just so precious. She will look at me all serious and just babble for a few minutes, when she stops I ask her a question and she will keep on going.
Words Vivi knows and uses:
"Hi"'
"Bye"
"Kitty" (giggy)
"Puppy"
"Mumma"
"Dada"
"Uh-Oh"
"No"
PLAYING & LEARNING**
**When my phone rings she will look at it and say "HI"
She is in love with patty cake and finding her "piggies"
She loves books
She likes to put things into containers, but she won't put her toys away
She carries her Peppa Pig suffed animal around with her pretty much everywhere she goes
She is no longer afraid of the grass
She loves "selfie" mode on my iPhone, she could talk to herself for hours
When she drops something (accidental or on purpose) she will say "Uh-Oh"
She loves to go into my Tupperware cabinet and take out all of the containers and then carry one around
** 
**
DAYCARE**
**Vivian is enjoying being the oldest in her class. She is still in infant II. She will be moving up to Toddler I in about a month or so they said. Although on Wednesday they gave her a trial run in the Toddler room because the baby room had an extra little one that day, and since she is the oldest she got to go play with the big kids. From what I was told she wasn't a big fan. It could have been that it was new people and she was tired. Eh, she will get there and she will do great when she does get to move up!
She loves arts and crafts day. Her teacher told me she likes to have her hand painted. Weirdo
She loves the food she gets to eat, too.
** 
**
THIS PAST MONTH IN A NUTSHELL**
**This month has been a much healthier one! We have been trying to get outside a much as possible.
We have gone to High Cliff State Park and took a walk around, and then went and played on the playground. Vivian got to go down the slide for the first time, which she loved, and she also got to swing, which is her favorite!
We also did Drive for a Cure at the beginning of the month. We got to ride around in some fun cars.
On Labor Day weekend we went to visit Jason. We went for a hike at Rib Mountain, ate at HuHot, went shopping, played Clue, and played with his dog Chloe.
And we went to the farmers market a couple of times.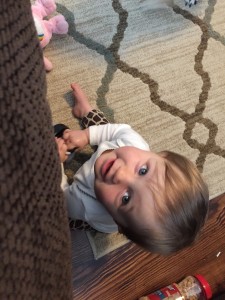 THE WONDER WEEKS**
**Vivian is still in the leap of Sequences. She will learn to recognize and manage the flow of events and relationships over time. Eating cereal with a spoon, for example, means grab the spoon, put the spoon into the bowl, scoop some cereal onto the spoon, bring the spoon to your head, and put it in your mouth not your eyes. She will link actions together to reach a goal. At this stage your baby likes to feel needed and will want to help. Some skills she might gain during this leap are:
Answer simple questions. Example: How big are you? And she will raise her arms
Says "hum" if she wants another bite
Points at things, people, or animals if you ask her to
Put together a simple puzzle of 3 pieces
Understand that she has to talk into the mouthpiece of a phone
Stacks rings onto the ring pyramid
Points where to go
Repeats a game
Tries to persuade me to help her with things she really could have done without my help
Imitates two or more gestures that I make, one after the other
Tries to put her sock on by herself but doesn't succeed
---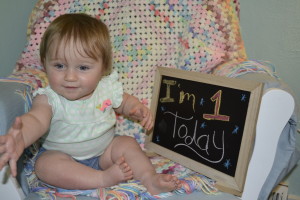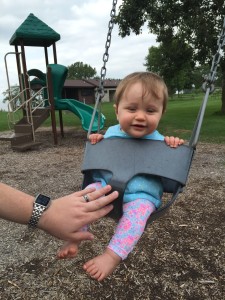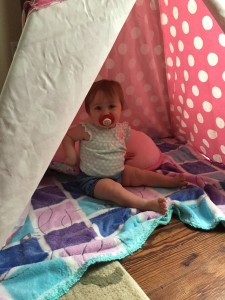 ---