Ben and Krista had met for the first time in the summer of 2006 when they both got summer jobs at Anchor Coupling in Menominee, MI.  They didn't really talk to each other that much at work because Ben was shy and they usually went to lunch at different times during their shift.  When Ben wasn't busy stealing Krista's routers, they each worked in a separate section on the shop floor.
Fast forward to the end of summer, and the beginning of of their first semester of college.  Krista and Ben once again met when they both had Sociology and English together.  They began to talk a bit more at school and online, and eventually ended up being in the same group together on a Sociology project.  During that time, Ben had more time to get to know Krista.  Eventually they decided to go to see a play together, and then were going to go see "The Pick of Destiny," but it was already out of theaters.  Instead they drove around town to finish off their first "date."  Ben, being the shy person he is, never really asked Krista to be his girlfriend, and instead asked if it was OK to change their relationship statuses, and make it Facebook official.  Even though they were together for a year, Ben finally –at the request of Krista– asked Krista out.  She said "yes."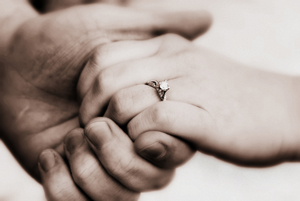 Ben and Krista became engaged October 27, 2009. It was just a normal night at home, we made dinner and brownies, and just sat on the couch and watched TV. Ben was concerned with proposing in a romantic way, and I couldn't imagine a better way for him to do it. I had been waiting for quite awhile, and I'm sure Ben was feeling the pressure. As we were lazily lounging on the couch watching Cake Boss on TLC, Ben started taking about how he was sorry for making me wait so long and things of that nature. When he got down on one knee and asked me to marry him. Of course I said "Yes!"! I didn't need a big fussy proposal, It came from the heart and was so unbelievably sweet.
June 25, 2011 Ben and I tied the knot. The ceremony took place at Holy Spirit Church, and the reception was held at Riverside Golf Club. We had the most perfect day that anyone could hope for. We were surrounded by family and friends and had a blasty blast, and I got to marry my best friend.
We currently live in Oshkosh, Wisconsin with our two cats Java Joo Pimp and Snickers Jazzmen and dog Ruby! Krista works as a graphic designer at Clarity Care, and Ben works as lead mobile developer at Smart Social Media.