Another Week 19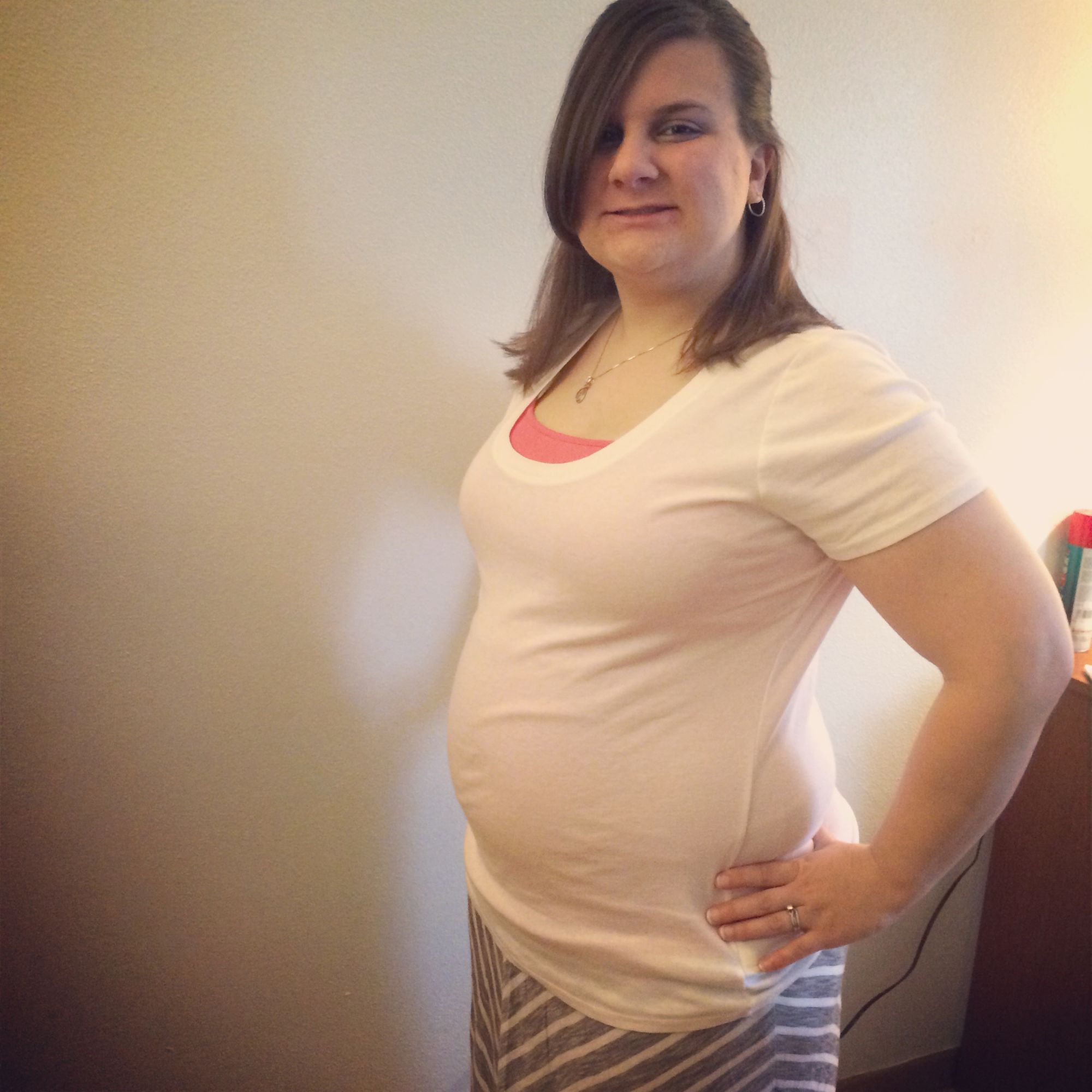 We are almost done with the repeating weeks. One more and we move on into the 20's! YAY! Not too much going on this week. Today is amazing, baby and I will be putting on our sunscreen and sitting outside in this gorgeous weather with Ruby and eating a popsicle. Can every day be like today, please? It is perfect.** **
I am starting to feel the pressure of all that is going on lately. I think it finally hit me that I Am Pregnant and this baby is coming, whenever she is ready, and I might not be. And then we are moving in July. I am going to be almost 7 months pregnant by then. Am I going to have enough time to move, get settled, set up a baby nursery, and stay sane? (All I know is that I will be nice and comfortable, thanks to the central air in this house!) I guess I am just questioning my ability to be ready. I know I have an awesome family and support system and they will help if I were to ask, I just hope I know when I need to ask and it won't be too late. Next month the packing begins. All of Little Lady Beneshs' stuff is already all packed nicely into a tote.** **
Our Vegas Vacation/Babymoon is coming up quickly and I am really excited to love up on the fam while we are there! I think I am mostly excited for actual HOT summer weather and an excuse to go to the pool. (the rate that Wisco is going…that is never going to happen). Maybe we will even get Ben to change a diaper. He needs some practice!
** ________________**
Ben's aunt Mary has been battling Melanoma since 2009. They have formed a team for the Ann's Hope Foundation 10th annual Block Melanoma Run & Walk on May 18th. Their team is called: Team Benesh Melanoma Mafia, and they are ready to kick some major melanoma ass. The walk helps raise awareness of the dangers of melanoma cancer and to raise the level of research, early detection and prevention in the community. If you would like to donate to the team, I know they would greatly appreciate it. You can do so [here](http://blockmelanoma.donordrive.com/index.cfm?fuseaction=donorDrive.team&teamID=5111 . "here").**
**
We, unfortunately, can't make the walk this year due to a family wedding up in Michigan, there just isn't enough time to get my prego butt down to Milwaukee in enough time. I will be there in spirit and I will be walking around wearing my shirt from last year and try to spread the word! I will be there (stroller and all) next year (hopefully doing the 5K run!!!!).
   These are all the walkers from last year!
** ________________**
How far along?  19 Weeks
**Total weight gain/loss: ** +6lbs holding strong!!
This might change at my appointment on Monday though. We shall see.
**How big is baby: **Baby is measuring in at 6 inches. That's about the size of a Mango. Weighing in at 8.5oz.
**Maternity clothes? ** My jeans no longer fit. I finally bought a pair of maternity jeans. Why did I wait so long to buy them? They are one of the most comfortable things EVER!!!
**Sleep:  **Sleep has been the same for a couple of weeks now. Waking up once or twice to get a drink or use the restroom… or there is a thunderstorm and Ruby decides to sleep on me.
Best moment this week:  Actually having some energy these days to get some stuff done. Have I gotten stuff done? No, but the energy is there!
Movement:  Movement has finally become a constant thing. I usually feel her the most after I've eaten and she has run out of room in there. Or if I'm squishing my stomach I feel a lot of movement.
Food cravings:  I love apples, Caramel and mocha frappuccinos, and popsicles.
Gender:  Girl, but "keeping our receipt" as the tech told us to.
Belly Button in or out? In for now.
What I miss: Sleeping on my stomach.
**What I am looking forward to: **Appointment on Monday. Then two weeks from today we will be going back for another ultrasound at 21 weeks.
Milestones:  She is developing a protective coating over her skin, called vernix caseoa. She is also working on her five senses. Nerve cells for her sense of taste, hearing, sight and smell are developing in her brain.
TO DOs:
Start the pediatrician search
Find a birthing class and sign up for it
21 week ultrasound
Start a baby registry
Fun Facts:
Maternity shirts bought – 7
Glasses of water consumed today – Approx. 15 (they are shortish)
Starbucks Frappuccinos wanted – ALL OF THEM
Pairs of maternity jeans purchased – 1 and they are AMAZING
Cups of coffee this week – 1
How many cups of coffee I wanted this week – 28
Baby name options – 8 (our kid might have a very long name at this rate ;)…)