37 Weeks
I still find it hard to believe that we only have about 21 days to go until we meet this little one! It seems like yesterday Ben and I were nervously waiting for my doctor to find Little Lady's heartbeat at our 8 week appointment. Here we are at 37 weeks, which is considered "early term" which means that if she comes before the 2nd (as long as there are no complications) there will be no NICU time. They don't consider you to be full term until 39 weeks now, but if she decides to come early they won't do anything to stop her from coming.
"Why are you still here?" seems to be the popular question this week. My usual answer is, "well, because I haven't had a baby yet. I want to be able to spend all of my leave with her… not waiting for her." My plan is to work up until I go into labor (which can be anytime, or so everyone tells me) unless I get put on bed rest and am no longer able to work. Plus, I know that once she makes her arrival I will not be leaving the house very much for a while so, I am enjoying coming and going as I please for now and going to work gets me out of the house.
We are now having weekly appointments, which means we are really close. I remember having to wait a month in the early days of my pregnancy. This last appointment I had my Group B Strep test. I will get my results in a few days. If I test positive I will get antibiotics while I am in labor so baby doesn't get it. After the strep test, because I was curious, I got checked and I am not dilated but I am 20-30% effaced. The doctor told me that at this point I could be 4cm dilated and not go into labor until after my due date, or I could not be dilated and go into labor later that day. We are now in a waiting game. We are waiting on you Little Lady.
I have noticed that my belly hasn't been perfectly "round" for a little over a week. It has been oblong. One side sticks out more than the other, it depends on what side Lady is laying on (usually the left side) and I'm sure it's a sight to see.
I have one more thing I want to say… What is up with half band maternity pants? I mean what is the point? I get that they work great early on in your pregnancy when you don't have much of a bump, but what about when you are later on in your pregnancy and your belly is just growing and growing and is HUGE? When I spend $30 on a pair of pants for work I would like to wear them to the end. But now with my shirts getting shorter and the half band pants my belly hangs out. I call this look business trashy. Ugh… just UGH.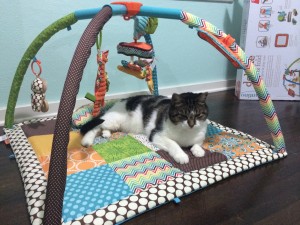 Java approves of the play mat.
How far along?  37 Weeks or 259 days
Total weight gain/loss:  +37
How big is baby: Baby is measuring in at 18.9-20.9 inches long. That's about the size of a Winter Melon. Weighing in at 6.2 to 9.2 pounds. She should be gaining .5lbs a week. She should be around 6lbs.
Maternity clothes? Maternity shirts are now becoming too short to cover my belly, although I am most comfortable in a pair of sweat pants and one of Ben's t-shirts.
Sleep: Sleep has been nice this past week. With the weather cooling down I am not as warm and I am able to get comfortable more quickly. I have only been getting up once or twice to go to the bathroom and its usually an hour or two after I go to bed.
Best moment this week: Hearing Little Lady's heartbeat again (it never gets old)
**Movement: ** After talking to my nurse about Lady's movement decline she told me that often because there is very little room for baby in there these days a lot of movement goes un-noticed. If you watch and put your hands on your belly you will feel and see her moving. Best advice ever!
**Food cravings: **Ice Cream Sandwiches and Popsicles = Best Diet Ever
Gender:  Little Lady
Belly Button in or out? It is officially FLAT… and gross.
**Symptoms: **Besides my ever growing belly and new stretch marks; I still have the leaky boobs, a sore lower back (maybe a sign of labor, but probably not), my belly is dropping a bit more, swollen feet, and that is pretty much it. Not too many other symptoms going on. There have been no intense cravings, no urge to nest, and the acid reflux has disappeared.
Signs of Labor: I have been having some intense Braxton Hicks contractions and a bit of lower back pain.
What I miss: I miss being able to get up from the bed or the floor without help.
What I am looking forward to: I am ready to meet this Little Lady and figure out her name…
Milestones: She is practicing inhaling, exhaling, sucking, gripping, and blinking.
She is getting her first dirty diaper ready for Ben.
TO DOs:
Start the pediatrician search
Pick a name
Finish baby's room
Finish unpacking the boxes

Doctors appointments with other Doctors (Dr. Southwick, Dr. Ray, Dr. Laibly, Dr. Schaufelberger) so we can meet them for when our Doctor is out on maternity leave.

Call Arts for Kids
Install Car Seat