34 Weeks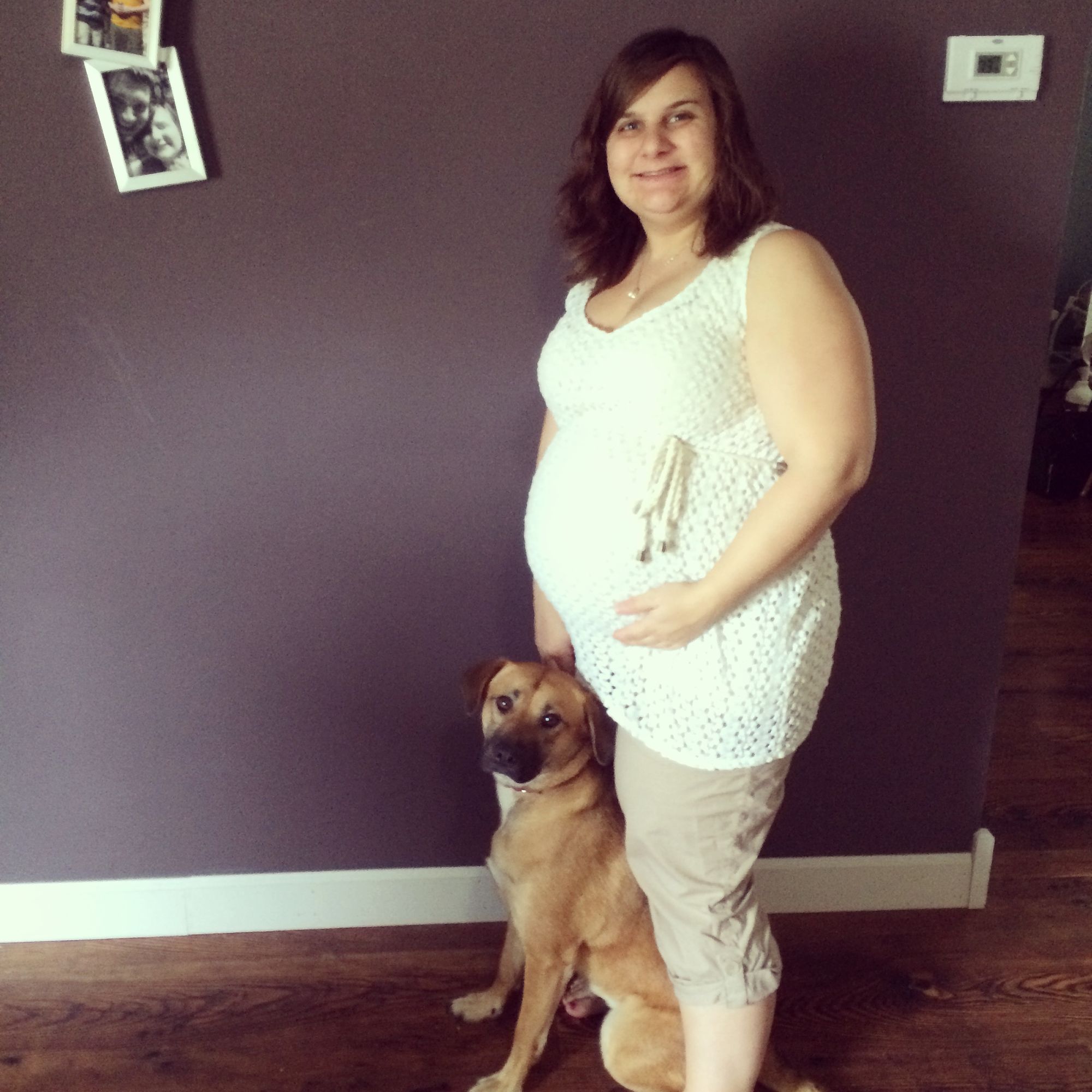 42 more days. The countdown is ON!
"How are you feeling?"
This is a question I have been asked quite a lot the past few weeks. My usual response to it is "I feel pretty pregnant!" I don't really think that that is what people are expecting as an answer, though. But it's true. If you have ever been pregnant, that is how you feel… When I say "I feel pretty pregnant" I think that that is all encompassing, it means: my feet are swollen and sore, my back and hips are killing me, I am front heavy and have no balance, acid reflux and I have gotten to know each other pretty well these past few weeks and I would be dead if it wasn't for TUMS, and I am detecting a hint of a third chin these days LEAVE ME ALONE or let's talk about something other than the baby or being pregnant. In a couple of weeks I'm sure all we will be taking about is the baby, so I would appreciate a normal conversation about the weather or the Packers.
It's hard to believe that in 6ish weeks I will be holding a baby girl. We have been super busy trying to get things as ready as they can be for her arrival. Washing and rewashing clothes and blankets, building shelves and gliders, and finding homes for all of the goodies we got from our baby showers. Her room is really starting to shape up and look like someone could actually live there! There are a few more things that I would like to get for her room (like a lamp, a clock and a rug) to finish it up! Once everything is set up and in place we will post a nursery reveal (that may be a week or two away yet though).
Over the weekend we had our baby shower that was thrown by Kathleen, My Mom, My Aunt Mary & Cousin Sara. (There will be a blog post soonish, I have to get the photos from my Mummy). Seeing everyone so excited about Little Lady really pumped us up for the last leg of the pregnancy! Hanging out with family & friends eating delicious food and cake, and playing fun games was the topper to an awesome week! Thanks again everyone for coming out to celebrate!!
Then on Tuesday my co-workers threw me a shower at work! We had a salad bar potluck (YUM) and a delicious cake with chocolate frosting!
Today we got to have a look-see at Little Lady! Her heart rate was at 155 and she is beautiful!
How far along?  34 Weeks or 238 days
Total weight gain/loss:  +26
How big is baby: Baby is measuring in at 17.2-18.7 inches long. That's about the size of a Butternut Squash. Weighing in at 4.2 to 5.8 pounds. She should be gaining .5lbs a week. Today she weighed 4lbs 11oz.
Maternity clothes? It's all that fits me. There are a few pre-pregnancy t-shirts I can wear because they are longer but they are still super tight everywhere.
Sleep: Sleep? What is this sleep thing you speak of?
Best moment this week: 2 Baby showers this week! Going home and seeing family was awesome. Seeing little lady again today!!!
**Movement: ** Her raves have calmed down quite a bit and now the movement is more rolling and stretching.
**Food cravings: **Food is no longer appealing to me. Not even my beloved French fries and apples.
Gender:  Little Lady
Belly Button in or out? Amazingly I still have an innie, a very very shallow innie.
**Symptoms: **I am still feeling the anemia, but it is getting better, the dizziness has most definitely calmed down.
I have been very tired – Not sure if it's from the anemia or we are back on the pregnancy symptom train.
The amount of times I have used the restroom is ridiculous. She needs to stop punching me in the bladder.
My boobs are still leaking… gross/weird but it's a good thing.
My feet are also swollen… Time to elevate!
I also have a sore back and hips… massage? Ben? Please?
Signs of Labor: The usual Braxton hicks are there.
I have had some minor cramping (Dr. said it was my body getting ready to push this little girl out!)
What I miss: I miss sleeping and sleeping comfortably the most right now.
What I am looking forward to: Hopefully hearing that my anemia is under control or almost under control and I don't need an infusion! Also, finishing up Little Lady's room and getting everything ready for her arrival.
Milestones: She can recognize and react to simple songs. (maybe I should start singing to her?)
She is urinating about a pint a day.
Her fat layers – which regulate her body temp – are filling out and making her rounder.
Her central nervous system is maturing and her lungs are continuing to mature as well!
TO DOs:
Start the pediatrician search
Week of appointments
Pick a name
Finish baby's room
Finish unpacking the boxes
Doctors appointments with other Doctors (

Dr. Southwick

, 

Dr. Ray

, Dr. Laibly, Dr. Schaufelberger) so we can meet them for when our Doctor is out on maternity leave.
Call Arts for Kids