32 Weeks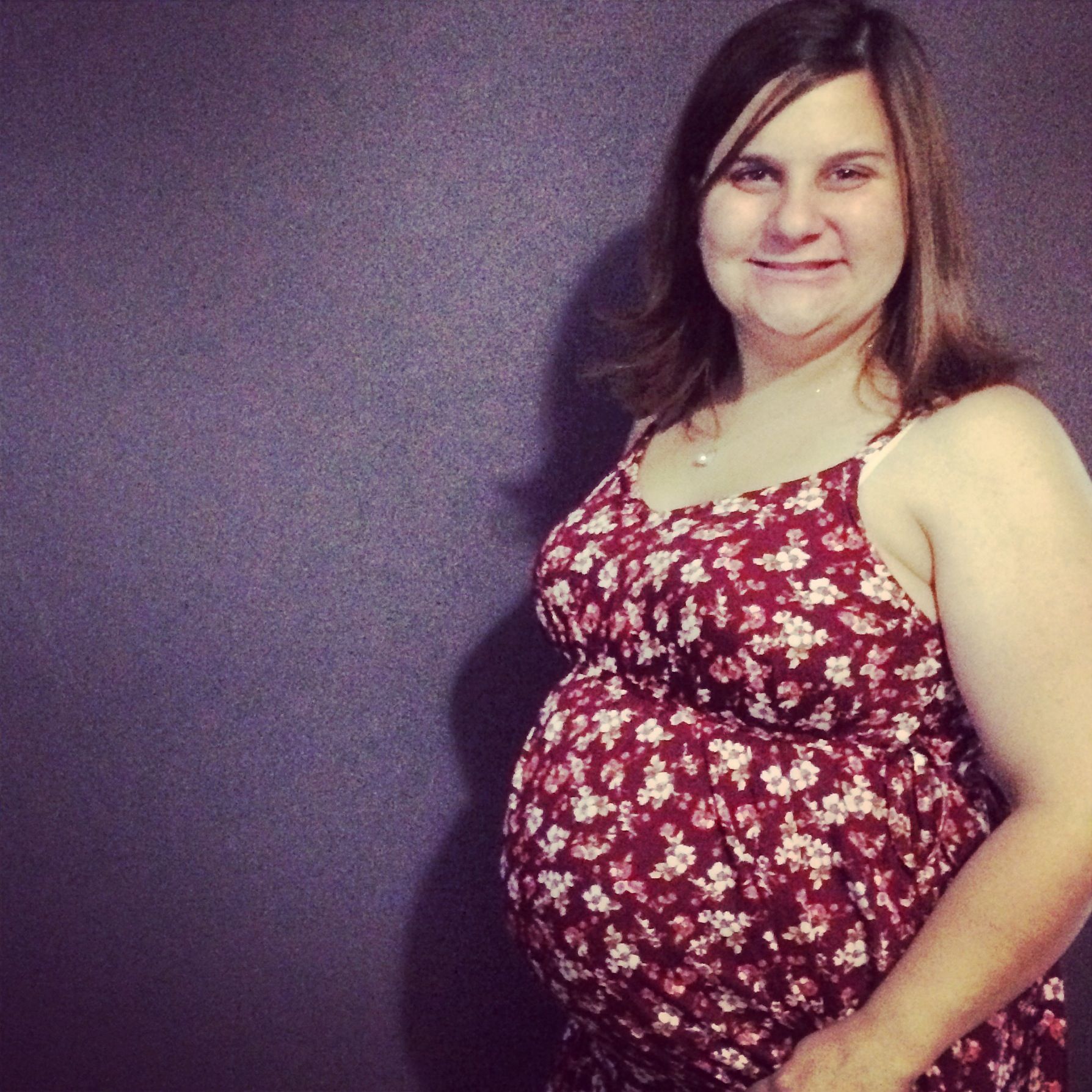 Happy 224th day of pregnancy to me! We are 5 weeks away from being Full Term! Time sure is flying by and the days and weeks are starting to blur together. Thankfully I have this blog that reminds me how far along I am or I would constantly counting in my head.
Nothing much has been going on.  We finished off last week with EAA. I will do a separate blog post about being pregnant and doing EAA (I feel like that its necessary and it's kind of a big deal.) Plus I have all kinds of photos to share. On Monday I went and pampered myself and got my hair cut. I haven't had it cut in over 6 months. I got 2 inches taken off and some layers added in. Tuesday I had an appointment with Dr. Ray (not my normal doctor), and yesterday I unpacked some more. What can I say? I've become low key in my pregnancy.
Let me put this out there so that it will now be common knowledge. I am anemic, and it's kind of bad. I found out after my first Glucose test (that I failed) that my iron levels were quite low (a 9 when it should be 12 and above) and they suggested that I start taking an additional iron supplement, and that seemed to do it for a couple of weeks. Then on Monday I spent most of the day dizzy, light headed, nauseous, and VERY warm. [Now, I have had some dizziness throughout this pregnancy and I just chalked it up to hormones, not anemia. Even most of the research I have done tells me that dizziness is common and even normal in pregnancy, so I didn't really think anything of it.] I figured since I was going to the doctor the next morning I would bring it up to her then and just tried to keep myself hydrated and fed. Tuesday rolls around and I am still feeling dizzy and faint, but It isn't as bad as Monday. We got to the doctor's office and I told her my symptoms and she suggested that I do another blood draw to check my levels, but we were also going to check my Ferritin Levels (my iron stores in my bones). And if my Ferritin levels were low enough I would have to come in for an iron infusion (which does not sound fun: a couple hours hooked up to an IV getting fluids enriched with iron…). Blood draw #6 for this girl BooYah! I wonder what the record number of blood draws is for a pregnant woman? Hmmm. Anyways, I got a phone call this morning saying my hemoglobin was staying the same around 9, and that my Ferritin is at a 7 (should be 8 and above) so not too bad, but still something to worry about and get resolved before Little Lady wants to make her arrival. So I will be making an appointment to get this all sorted out. No fun I tell you. NO FUN. Luckily Little Lady takes care of her Iron needs before I get any of it, but this could affect how much Iron she has when she is born and she could have anemia later on in her infancy. I have an increased risk for preterm labor and delivery and she could have a lower birth weight. Anemia is also associated with a higher risk of stillbirth or newborn death. So, you can see why I want this taken care of ASAP!
At my Tuesday appointment I got to meet Dr. Ray. She could be the one delivering Little Lady when the time comes. She was fantastic. Ben and I both enjoyed her personality and she knows her stuff. In 2 weeks we will be re-meeting Dr. Southwick. Then in a month we will see Dr. Bahn-Palma 1 more time before she is due. Then I have 2 more Doctors to meet, and by then I believe that we will be at weekly appointments… yay!
We still haven't decided on a name… I feel like we are back at square 1. We can't seem to agree, or even find a name that we like? Did anyone else have this problem? Am I stressing out about this too much?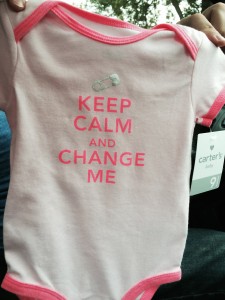 I about died when we saw this. I had to have it!
** **
How far along?  32 Weeks or 224 days
Total weight gain/loss:  +24 – No weight gain for this girl!
How big is baby: Baby is measuring in at 15.2 to 16.7 inches long. That's about the size of a Squash. Weighing in at 2.5 to 3.8 pounds. She should be gaining .5lbs a week and if she is gaining as she should be then she should weigh 4lbs 6oz.
Maternity clothes? Wearing them all the time. Although, I am at the point where I don't want to wear clothes any more…
Sleep: It's horrible. I can't get comfortable. Once I do fall asleep I wake up because I have to use the bathroom, or she kicks me hard enough to wake me up.
Best moment this week: Hearing her heartbeat again and learning that she is head down. Getting ready to come out I hope!
Also, getting a little pampering by getting my hair done on Monday! Plus I learned I shouldn't need to have iron infusion, my day is made.
**Movement: ** Her raves have calmed down quite a bit and now the movement is more rolling and stretching.
**Food cravings: ** I would KILL for a couple glasses of wine… (I'm a horrible person I kow…)
Gender:  Little Lady
Belly Button in or out? Amazingly I still have an innie, a very shallow innie.
**Symptoms: **This past week I have been very dizzy and light headed. I brought it up to my doctor and she sent me down to get a blood draw to check my iron levels (Hemoglobin and Ferritin). Both are a bit low so this girl's anemia is getting slightly worse. I have already been taking an iron supplement on top of a prenatal, so I get to get in with a general practitioner and get something a little stronger.
I have also been having some shortness of breath; she is scrunching up my poor lungs.
Leaky breasts… ick
Signs of Labor: Some Braxton Hicks and I think that's it???
What I miss: I miss my pre-pregnancy body. Also, being able to roll over in bed without waking up.
What I am looking forward to: Baby showers, and our maternity photos!!!! And not being pregnant anymore!!!
Milestones: She is getting ready for her descent – She is in the head-down position.
She is probably feeling more cramped.
Her lungs are still working to get ready.
She also has toenails, fingernails, and hair (peach fuzz)!!!
THINGS I'M EXCITED FOR:
My first baby shower this weekend 

on Sunday

 with the Benesh's!!!! I can't wait to see everyone!
Maternity session photoshoot tonight!
Finishing up the nursery after my showers!
TO DOs:
Start the pediatrician search
Pick a name
Finish baby's room
Maternity Photos
Finish unpacking the boxes
Doctors appointments with other Doctors (Dr. Southwick, Dr. Ray, Dr. Laibly, Dr. Schaufelberger) so we can meet them for when our Doctor is out on maternity leave.
Dr. Apt. for my Iron
Call Arts for Kids
Start washing baby's clothes