30/31 Weeks Pregnant and a A Week at EAA Airventure 2014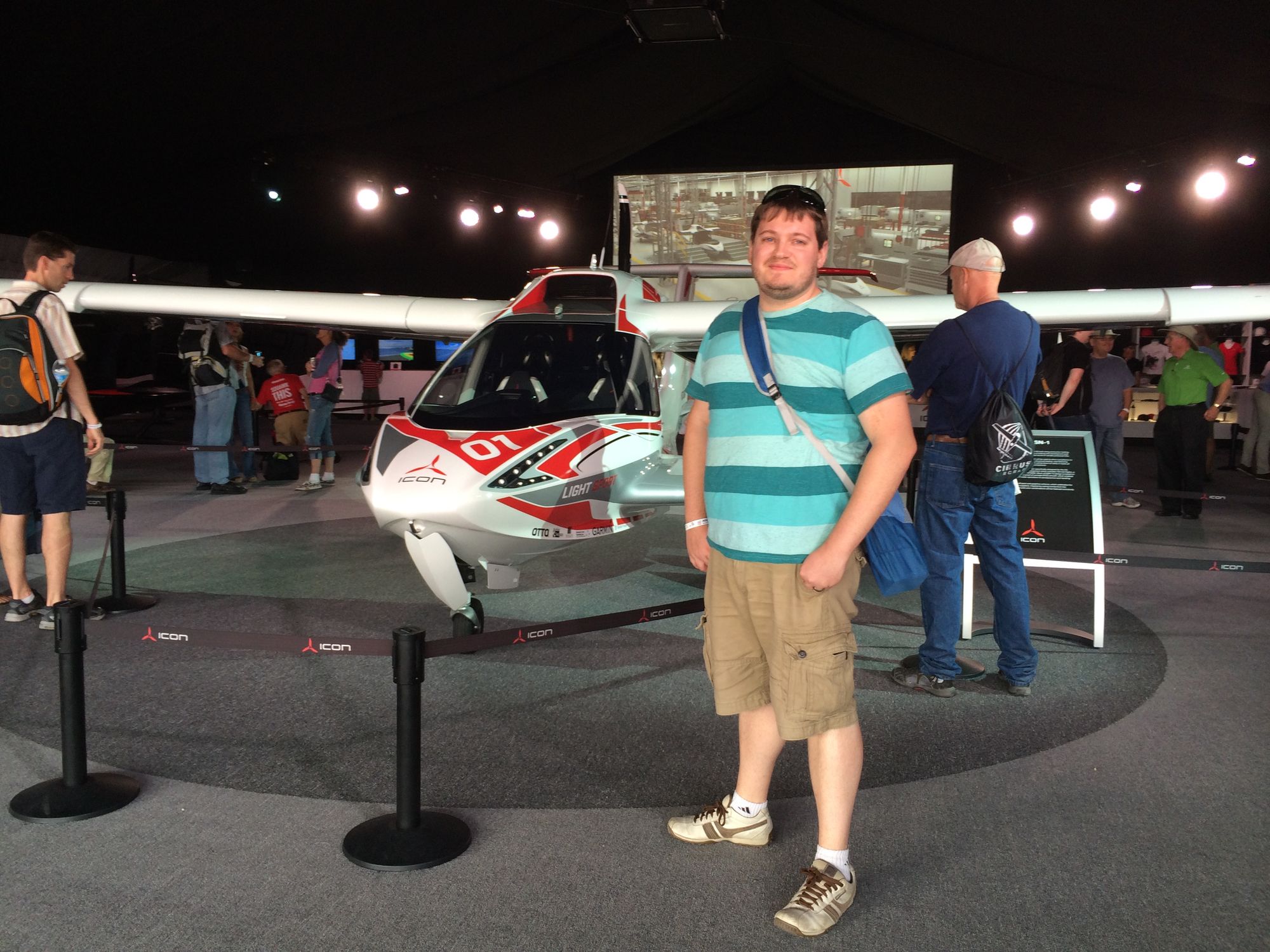 Ben next to the Icon thinger.
Every year EAA Airventure takes place in Oshkosh. Two weeks ago Ben and I spent almost the whole week at the EAA grounds in Oshkosh enjoying all of the airplanes and helicopters. There is so much to see and do that a week is hardly long enough. With all of the planes and helicopters to see comes so much walking. Don't get me wrong, walking during your pregnancy is a great thing, but combined with the heat and all the people that are there it becomes difficult and very tiring. After the second and third day my feet were so swollen and my back was killing me [The things I do for my husband… He is so spoiled] I needed a break. So I took off a couple days to rest my feet, and my back. Plus I am not really that into planes so I was pretty much checked out after the first day.
I was mainly there looking for hot pilots that would be willing to take me away… no such luck. Just kidding. I went to see the Thunderbirds and all of the airshows. The airshows from the grounds are 10x better than just watching them from anywhere else in town.
I had an okay time. I would have had an even better time if I wasn't pregnant. I only saw 3 or 4 other women there that were just as pregnant or less pregnant that I am. I was seriously considering renting a scooter to get me from point A to point B. Then on the 4th day of Airventure Ben "discovered" that there were trams that would take you from your car to the grounds. Um… Do you know how much pain that would have saved me???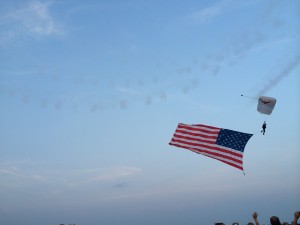 Every airshow started with this guy parachuting out of a plane with the American Flag.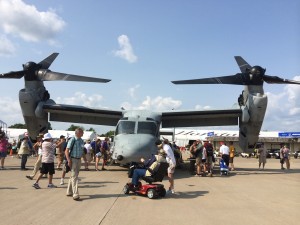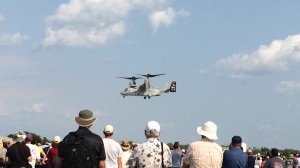 This bad boy is the MV-22 Osprey. This thing made my time at EAA worthwhile.  If you want to see the BAMF plane in action go here!

Sunday we saw the Thunderbird airshow. 1 word : WOW. Also the pilots and mechanics are super good looking

Heart… made just for me by the Thunderbirds
All in all it wasn't too bad. Would I do it again. Sure. Would I do it again while pregnant. Hell no, unless I am really early in my pregnancy where I don't have an extra 20lbs just chilling on me. If you have a chance, go for a day – preferably on a day where there is a night show.