29 Weeks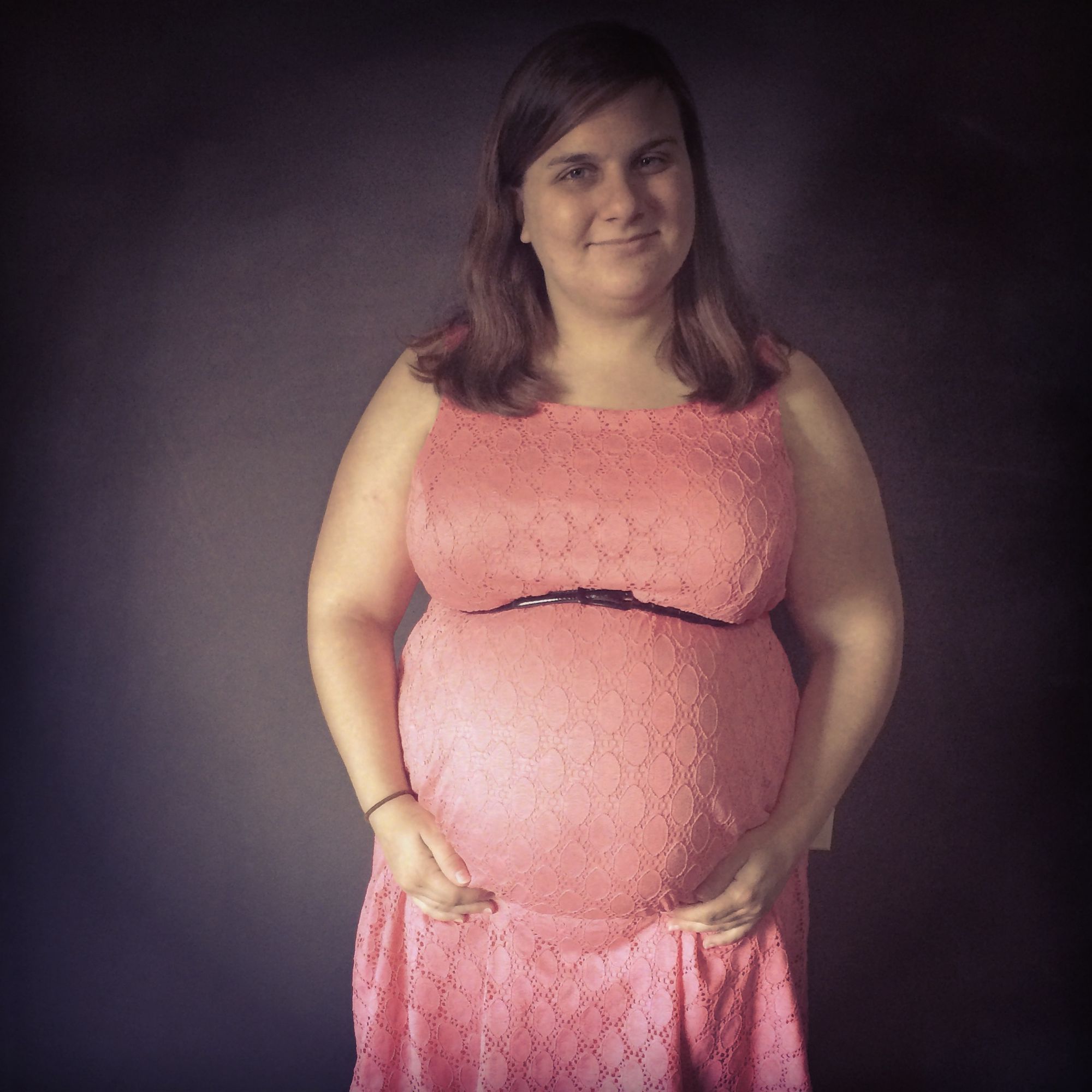 Wow, I have been pregnant for 203 days, which means I have 77 days to go (give or take)! Things have been going pretty smoothly this week, which is AWESOME! Sleep has been good, feet swelling has gone down, and Little Lady's room is coming along (we are making progress)!!! She is definitely getting cramped in there. I can pretty much feel or see her moving ALL THE TIME.
Looking at my weekly photo, can I be the first one to say … Holy Crap my boobs are huge. You can hardly tell that I am wearing a belt with my dress!!!! It is almost time to get some bigger bras to support these things!!! Well, at least my big boobs match my big belly. Although, the belt did come off this afternoon after lunch, it was getting tight.
I noticed that last week I forgot to talk about our Labor, Birthing, & Beyond class that happened 4th of July weekend. It was one of the best $60 I have spent in a while. Why? you ask. Well, as part of the class we talked about and practiced coping positions and as our support system, the husbands got to rub our backs and "comfort" us. So 1 hour of a nice back rub. It was heaven! Other than that we learned some breathing techniques that will help with labor and some fun words like Fundus! We got a tour of the hospital and Labor & Delivery, and then we watched a video of a birth. Am I prepared to have this baby now? Hell no. I think this class scared me more than anything. The whole labor and birthing thing isn't what scares me it's what happens after she is born. After she is born I am responsible for her, and it is my job to keep her alive and healthy! That is what scares me most.

(My phlebotomist was nice and gave me a neon bandaid!)
Last week was the big glucose test … the results are in and … I failed. So on Wednesday I went in and did a 3 hour test. I haven't heard back yet, and I will admit that I am pretty nervous. I will do whatever I have to do to keep Little Lady happy and healthy! If that means I have to 100% change my diet (again) and poke my finger I will. Even if she needs to come early to prevent any complications, I will do it!
So wish me luck that I didn't fail. fingers crossed
As of last week I will be going in for check-ups every two weeks now! So we will be going in next week already. Time sure is flying by! I am not ready. Sometimes this pregnancy STILL** **isn't real for me. Yes, I feel her kicking. Yes, I see her moving. But somehow my brain is still in denial that we are going to have a baby. And I'm pretty sure I have convinced myself that I am going to be pregnant forever and she will never come out. I don't know how much more proof I need to understand that this is happening… Hopefully it kicks in soon.

(I couldn't help it. The VW logo almost fit perfectly on the bump!)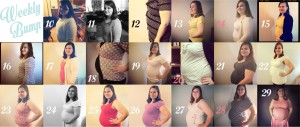 (Proof that I am indeed, pregnant)
Time for the rest of the update!
How far along?  29 Weeks
**Total weight gain/loss: ** +28
**How big is baby: **Baby is measuring in at 15.2 to 16.7 inches long. That's about the size of an Acorn Squash. Weighing in at 2.5 to 3.8 pounds, and her weight will triple by the time she is born.
**Maternity clothes? **Wearing them all the time.
**Sleep: **Pretty great! Waking up to roll over or go to the bathroom once or twice.
Best moment this week: Watching Little Lady party hard in there.
Movement:  My child is a raver. She is constantly moving.
Food cravings:  Nothing in particular.
Gender:  Little Lady
Belly Button in or out? Still in. Give it time. **UPDATE: **George (the freckle) may or may not have a buddy. More to come when I can find a mirror that I can see my belly in!
What I miss: Being able to bend over.
**What I am looking forward to: **Appointment on Thursday.
Milestones:  She's getting a little cramped in there, since she's growing so fast.
She's growing white fat deposits under her skin, and her energy is surging because of it.
She has been having random bouts of the hiccups.
TO DOs:
Start the pediatrician search
Find a daycare
Daycare tour 

on Monday

Paint babys room
Build babys furniture
Finish baby's room
Find a Medical supply store to order/get my breast pump.