27 Weeks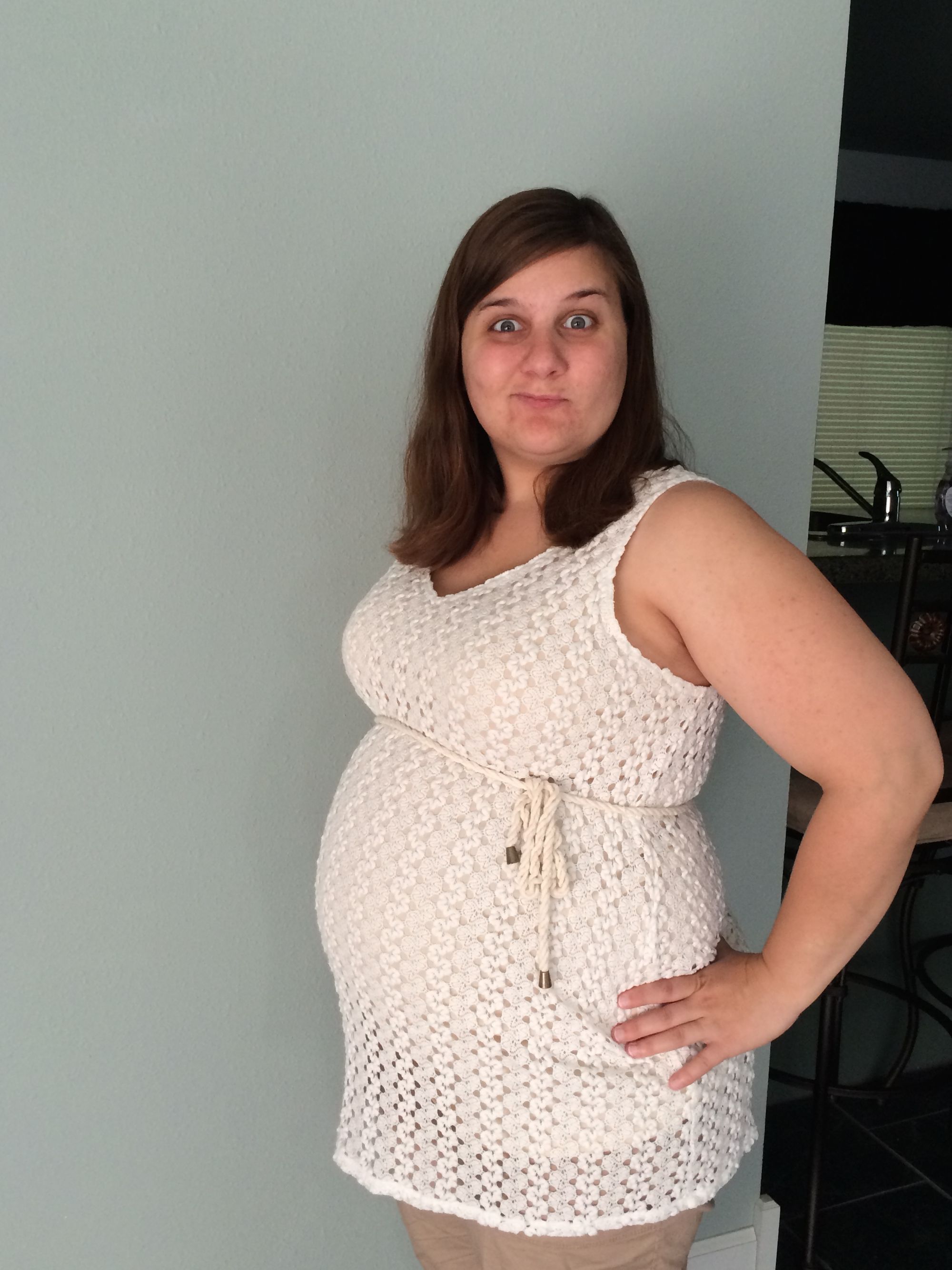 According to one of my pregnancy apps (BabyBump) I have been pregnant for 189 days, and if I deliver on my due date (10-2) I only have 91 more days to go! I remember when I was really excited that I was 1/3 of the way done and next week I will be officially in the Third Trimester! Time flies doesn't it?
This past week Ben and I have been superrr busy. Friday we were able to start moving into our new house. You can read about it here. While we were moving things this past weekend I think I over did it a little bit. Don't worry I didn't lift anything super heavy, I think it was just the constant bending, twisting, going up and down stairs, and cleaning, because on Monday I sure felt sore (espically in my legs, arms, and sides).
Since we have been moving things into the house we decided that it was time to go and buy paint for the baby's room!!!! Since my parents are coming to help us move some of the heavier things to the new house I am going to employ them to help paint the room!!!! Be on the look-out for before and after photos and I hope to do a nursery reveal when we are all set up! So exciting!!!
On Monday we toured our first day care, Arts for Kids. We have heard so many good things about that facility. The tour went AWESOME. I really liked it and all the things they had to offer like, art, Spanish, science, and coming soon… Yoga (not that the baby can do all of those things at 6-8 weeks when she will be starting) I love that she will have the option to do so much while she is there. We still have a few tours left. We will also be touring Kyria, KinderCare, and maybe the YMCA. I feel like this is going to be a super hard decision. We were originally thinking we could make part-time daycare work (we would just have to rearrange our schedules a bit) but It just won't work. I want us to have as much time together after the work day that we possibly can and we can't do that if Ben works until 7pm… So this just works easiest for us! I know that where ever we choose will be the best fit for us!
This coming Saturday Ben and I have our class: Labor, Birthing, and Beyond. Wish us luck!
** **
How far along?  27 weeks only 91 days left of my pregnancy (if I give birth on my due date)
**Total weight gain/loss: ** +18
**How big is baby: **Baby is measuring in at 13.6 – 14.8 inches. That's about the size of a head of Rutabaga. Weighing in at 1.5 – 2.5lbs.
**Maternity clothes? **Wearing them all the time.
**Sleep: **I have had so much trouble sleeping lately. Probably because of the move and sleeping on an air bed. I should have my bed in the house on MONDAY!!!!
Best moment this week: Ben watching my belly move with Little Lady. He told me he "had a moment"
Movement:  My child is a raver. She is constantly moving.
Food cravings:  Fruit Loops. I could eat these all day every day.
Gender:  Little Lady
Belly Button in or out? Still in. Give it time. George (my freckle in my belly button) will get to see the light of day soon!
What I miss: I miss summery Mojitos.
**What I am looking forward to: **Getting settled in the house. Getting the nursery painted, and all the furniture built. ALSO… We have our final ultrasound in Green Bay on Thursday. I can't wait to see her. This will be the last time we see her until she arrives
Milestones:  She is practicing inhaling and exhaling with her rapidly developing lungs.
It's official: She is showing brain activity! And her brain will keep on getting more complex.
TO DOs:
Start the pediatrician search
Find a daycare
   Daycare tour

on Monday

Paint babys room
Build babys furniture
Find a Medical supply store to order/get my breast pump.