21 Weeks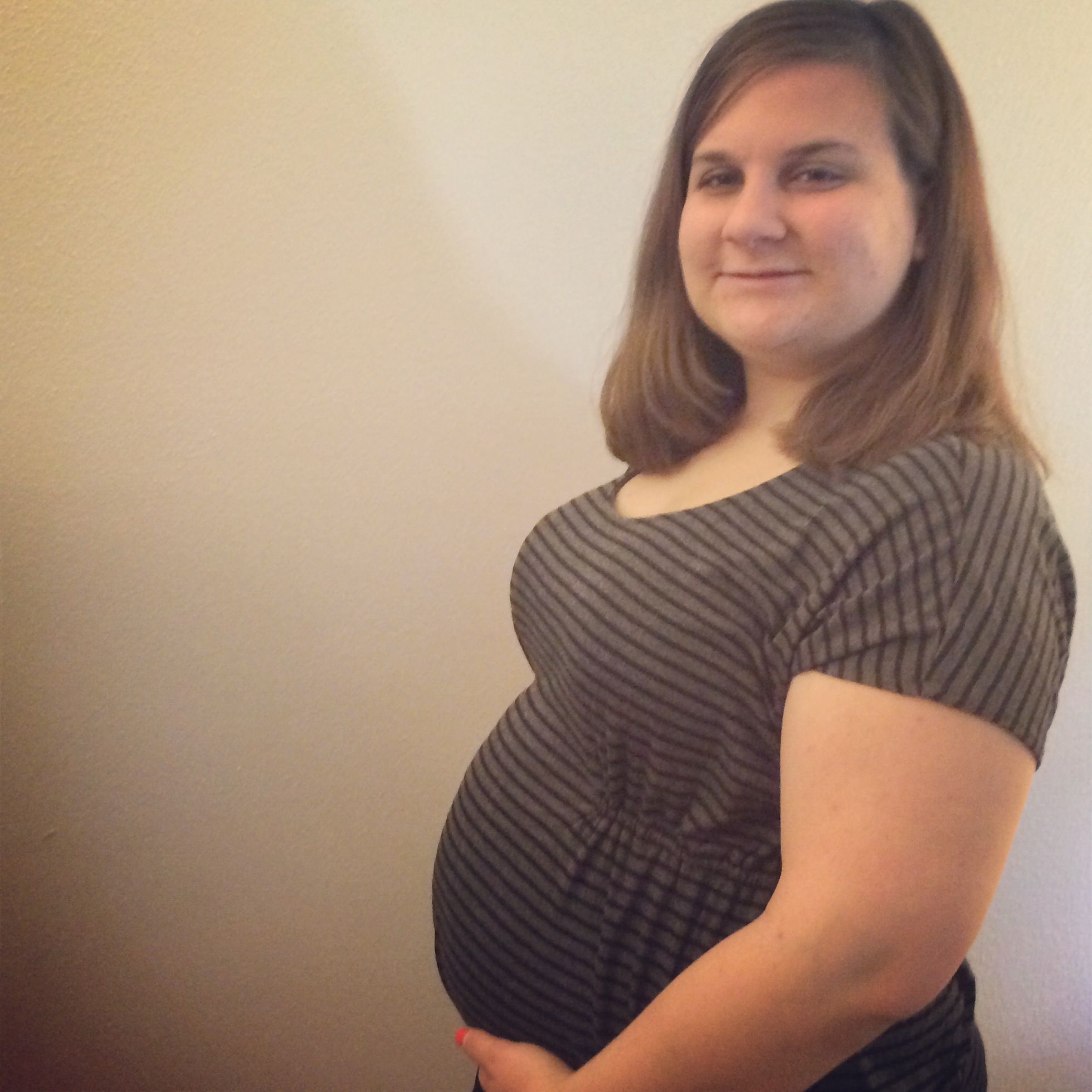 Well, I look tired in this photo don't I? Oh well. It shows off the bump and that is all that matters right?!
So this past week was kind of low key and I found that to be amazing! Nothing too crazy happened either! Yay!
Last weekend we went home for my cousin's wedding. We got to my parents on Friday night and got settled in. Then on Saturday we went to the church, I cried my eyes out, went home and took a nap, and then went and partied until 10:45! The wedding was beautiful, and it was fantastic catching up with the Crazy Awesome Greenwood Family and some old friends too!!! Then on Sunday we had Mickey-Lu's for lunch then drove back to Oshkosh and spent the day relaxing. Ahh weekends seem to go so fast.
We also squeezed in some rummage sales early Saturday morning. I found some really cute clothes and this awesome gem. You pay $30 for one of these brand new and, I got it for $0.50!!! Win!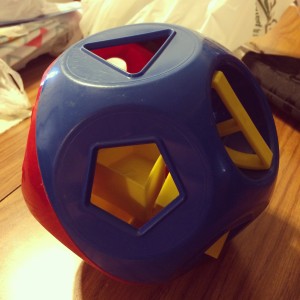 Ben and I also had a dessert date at Olive Garden with a couple of friends on Monday! Best idea ever! It was so good. I had the Black Tie Chocolate Cake. OH-MAI-GOSH it was sooooo good!

Now… for the moment you've all been waiting for! We had our official 21 week ultrasound today in Green Bay this morning. Turns out we are having A GIRL officially. So we were pretty excited that we didn't have to go and return the stuff we have already bought. She is measuring right on track and she is perfect!!! Isn't she a cutie. The last one is a 3D ultrasound!!! We love her so much, and we can't wait to meet her!!!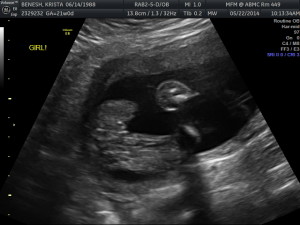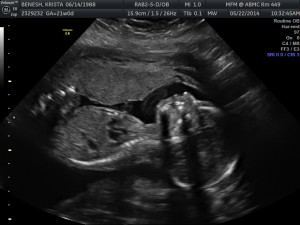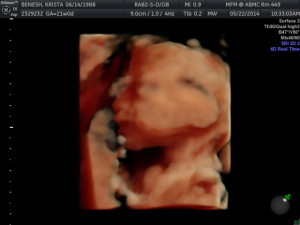 How far along?  21 Weeks! The Doctor even confirmed this today! We have made it past the half way point!
**Total weight gain/loss: ** +8
**How big is baby: **Baby is measuring in at 10.5 inches. That's about the size of a Pomegranate. Weighing in at 14oz. She is growing for sure, and I am feeling it.
**Maternity clothes? ** I feel like my quest for clothes could be OVER. I may want to get 1 more summer-y dress, but that is it! I still have to try on all of my swim suits for our trip to Vegas to see if I can still wear them. If they don't fit, Ill have to buy a new top at least.
**Sleep:  **It's alright. I have been getting up at midnight every night (doesn't matter when I go to bed) to use the bathroom. At least I am able to fall right back asleep
Best moment this week:  Having our 21 week ultra sound today. Baby is moving around in there so much! It's amazing.
Movement:  Movement usually happens after I eat and right before I go to bed. They aren't too strong yet, but they get stronger every time.
Food cravings:  I love apples, French fries, popsicles, reese's peanut butter cups, and cinnamon raisin bagels
Gender:  It's a girl!!!
Belly Button in or out? In for now.
What I miss: My love for chicken. It is gone now.
**What I am looking forward to: **Closing on our house next week, and our Vegas vacation coming up!
Milestones:  Her digestive system preps for the outside world; she is making meconium — the icky stuff for her first dirty diaper.
TO DOs:
Start the pediatrician search
Find a Medical supply store to order/get my breast pump.
Sign up for the breastfeeding class
Find a birthing class and sign up for it
 21 week ultrasound
Start a baby registry
Coffee with Jessica and Julie
Buy maternity shorts and capris