20 Weeks - Half Way There!!!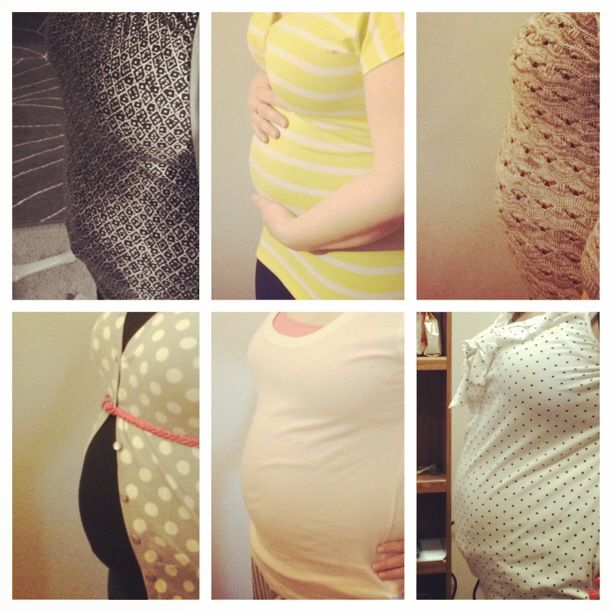 We are finally at 20 weeks. And it's for REAL this time. Since we found out I was 3 weeks behind what we thought I was originally I felt like this day would never come, but IT HAS!!! I feel like I have been waiting for FOREVER!!!!
I am officially 5 months prego. Wow. That is all I can really say. There are still some days where I just think to myself… "Wow! you really let yourself go. Time to get back on the health and fitness train." And then I feel her kick and I'm reminded that oh yeah… There is a reason I have "let myself go"… I'm pregnant, I need more carbs than I want to eat and I can't just decide that I want to start my Jillian Michaels video.
Is that normal? To forget that you are pregnant?
We went to the doctor on Monday. It was another "boring" appointment as my dr. calls them. We check all of my vitals with a Medical Assistant (I don't remember the correct title) and then we wait and then dr. comes in we chat a bit about my symptoms: Have you felt the baby kick yet?(Yep!)  Round Ligament pain? (YES)  and so on.  Then we hear her heartbeat (Still 154, she is so consistent!!!!). Then we talk about what will happen when we come back in a month, pretty much the same thing, but we measure my belly (o_0) and we chat about my upcoming glucose/Gestational Diabetes test. Wish me luck! (Have I mentioned she is pregnant too? When we were due in Sept. she was due the day after me, but now that my date has changed she will for sure be gone when Little Girl comes, so we get to meet all the OBs.)
 This was from mothers day.
What else is going on? I am having the hardest time remembering things. My brain has officially checked out, which can be awesome… and really bad at the same time, so, if you see me writing notes that is why.

Also, my emotions are RIDICULOUS!!!! My tears come so easily these days. It can be songs on the radio, and those commercials on TV where the military family comes home to surprise their children and they are all so excited and happy. (I am tearing up typing this).  One second I am happy and life is great… the next, (in my mind ) Ben hates how I look these days and doesn't love me anymore. I know in the back of my mind this isn't true, but I can't turn it off!!!! Speaking of Ben, he has been amazing. He has taken everything I have thrown at him in pregnancy induced rage, sadness, or insecurity and has just reassured me that we are ready for this, and that I am not doing this alone, he is right there with me. It is safe to say that I love him more every day. Oh and gets me popsicles!!!
Ben and I also took a trip to JoAnn Fabrics last week to try and get inspired for Little Girl's room. This is what we found and I LOVED!!! I so love the real, white, reds and corals!!! It's so pretty and the one with the pink flowers is pretty too!
On the house front: Everything is all set to go! We are closing on the 29th at 4. Huzzah! We will be moving in July, even more HUZZAH!
How far along?  20 Weeks! Half way there! Unless little girl decides to come early then I'm over half way!
**Total weight gain/loss: ** We went to the doctor on Monday and I have gained a total of 8 lbs. Which means I am right on track.
**How big is baby: **Baby is measuring in at 6.5 inches. That's about the size of a Banana. Weighing in at 10.6oz. She is growing for sure, and I am feeling it.
**Maternity clothes? ** Now that the weather is warming up I need to find myself a few pairs of Prego shorts and capris, and perhaps a few more dresses. When the weather was really nice this past weekend I had a hard time wearing some of my old clothes. Thank God for my B-Band. Lifesaver!
**Sleep:  **AMAZING. I am sleeping so well right now. I usually wake up once or twice to use the bathroom or get a drink but I usually fall right back to sleep.
Best moment this week:  I was lying on the couch last night (with my hand on my stomach) and I felt her kick from the outside. This was the first time that happened for me. It was one of the most amazing things in the world. By the time I was ready to call Ben and tell him to get by me, she stopped. Maybe next time Ben!
Movement:  Movement usually happens after I eat and right before I go to bed. They are too strong yet, but they get stronger every time.
Food cravings:  I love apples, French fries, popsicles, and cinnamon raisin bagels
Gender:  Girl, but "keeping our receipt" as the tech told us to.
Belly Button in or out? In for now.
What I miss: Sleeping on my stomach. Oh I miss it so much! Thank God for body pillows though.
**What I am looking forward to: **Our appointment next week! We get to see our little girl again, so we are pretty pumped!!! We will also be seeing our friends next week. And my cousin is getting married this Saturday so we get to see family and they get to see my awesome pregnant look!
Milestones:  She has working taste buds!!!! She is also "gulping down" several ounces of amniotic fluid each day – getting ready for that first diaper.
TO DOs:
Start the pediatrician search
Find a birthing class and sign up for it
21 week ultrasound
Start a baby registry
Coffee with Jessica and Julie
Buy maternity shorts and capris
Fun Facts:
Number of stretch marks that have appeared on my stomach – 4 and lets keep it that way. No more!
Amount of times I wish I was wearing sweat pants at work – I think about it all day. I can't put a number on it
Number of baby things we have bought – Some really cute clothes and a really cute rainbow photo for her room!!!
Episodes of Supernatural watched  -8
Baby kicks today – 18